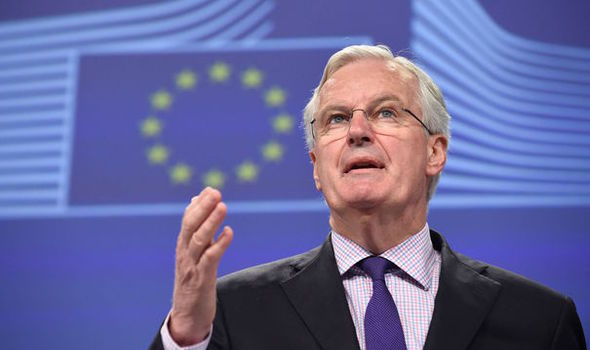 The 5th round of negotiations on Brexit was not so successful. That is what the European negotiator Michel Barnier said today at the Press Conference in Brussels. Differences remain at discussions, which now have citizen's rights, Northern Ireland and the "Brexit bill" under the spotlight.
"On citizens' rights, we have two common objectives: that the Withdrawal Agreement has direct effect, which is essential to guarantee the rights of all citizens in the long-term, that the interpretation of these rights is fully consistent in the European Union and in the United Kingdom", said M. Barnier. "On these points, we will continue to work on the specific mechanisms which will allow us to translate this into reality. This means for us the role of the European Court of Justice. Furthermore, divergences still exist on the possibility of family reunification and on the exportation of social benefits after Brexit, both of which we want".
He also welcomed the advance of the talks on Ireland. "This week we advanced on the joint principles on the continuation of the Common Travel Area and I welcome this. We also agreed that the six principles proposed by the EU in September would guide our work on protecting the Good Friday Agreement in all its dimensions".
But, on the financial settlement, M. Barnier used the "hard" and "deadlock" words. "Theresa May confirmed in her Florence speech that the UK will honour commitments it has made during the period of its membership. This is an important commitment. The UK told us again this week that it still could not clarify these commitments. Therefore, there was no negotiation on this, but we did have technical discussions which were useful, albeit technical. We are, therefore, at a deadlock on this question. This is extremely worrying for European taxpayers and those who benefit from EU policies", he added.
"This is not about making "concessions" on the rights of citizens. This is not about making "concessions" on the peace process in Northern Ireland. This is not about making "concessions" on the thousands of investment projects and the men and women involved in them in Europe. In these complex and difficult negotiations, we have shared objectives, we have shared obligations, we have shared duties, and we will only succeed with shared solutions. That is our responsibility", he concluded.
On behalf of United Kingdom, David Davis said the UK still wanted to be given the green light for trade talks when EU leaders meet next week. He said Theresa May's announcement that Britain would honour financial commitments entered into as an EU member was "important". But he said there had been no negotiations on the issue this week because the UK was not ready to spell out what it would pay.
"On this question we have reached a state of deadlock which is very disturbing for thousands of project promoters in Europe and it's disturbing also for taxpayers", he added.
The UK's Brexit Secretary urged EU leaders at the summit, on 19 and 20 October, to give Mr Barnier a mandate to start trade talks and to "build on the spirit of cooperation we now have". Mr Barnier said: "I am not able in the current circumstances to propose next week to the European Council that we should start discussions on the future relationship", replied M. Barnier…/IBNA
Photo: AFP Getty