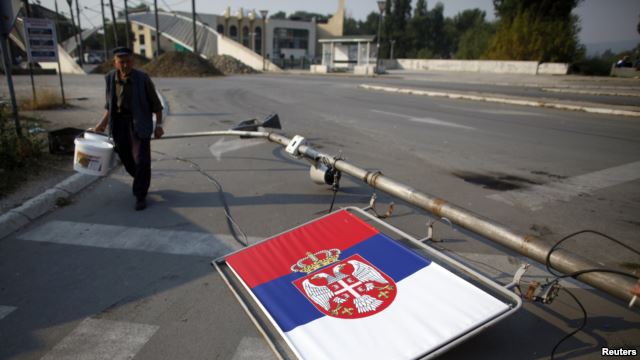 Pristina, March 14, 2014/Independent Balkan News Agency
By Elton Tota
Four communes in the north of Kosovo are detaching themselves from the institutions of Kosovo, profiling themselves as a special political entitity.
Councilors of four communes of the north (Mitrovica, Zvecan, Leposavic and Zubin Potok) approved several days ago the statutes of the communes, thus avoiding the Constitution of Kosovo, referring to Resolution 1244 of the Security Council.
This act has raised concerns for the creation of a "Republica Srpska" in the north of the country, as besides the statutes, Serb councilors also approved the symbols and logos of their communes, which avoid Constitution of Kosovo. With this action, the mayors of these communes feel proud.
Analyst and known publicist, Halil Matoshi says that government of Kosovo will "swallow" even this change. The government has left this issue to be handled by the Ministry of Local Administration which is led by minister Slobodan Petrovic, in an effort to integrate this part.
In a press statement, deputy prime minister of Kosovo, Edita Tahiri said that the communal assemblies of Zvecan, Leposavic, Zubin Potok and Northern Mitrovica "approved the statutes of the northern communes, which in several parts breach the Laws of Kosovo".
Deputy prime minister Tahiri said that these statutes are unacceptable and need amendments in order to comply with the Laws and Constitution of Kosovo, based on the Brussels agreement.
According to the laws of Kosovo, the harmonization of these statutes must take place before these statutes enter in force.
Meanwhile, former minister of Administration of Local Government, Sadri Ferati said that these statutes, besides referring to resolution 1244 have a tendency to appear neutral toward the status of Kosovo.
"I have not seen all these statutes, I have only seen the proposal of northern Mitrovica, but it's very likely for all of them to be similar. The biggest contradicting element relates to the fact that resolution 1244 is mentioned and they try to present it as the Serb cultural heritage. There's also a tendency to present the statute of the commune as neutral", said Ferati.
But, Ksenija Bozhovi, head of the communal assembly in northern Mitrovica, says that as far as the approval of the statutes is concerned, disagreements and objections coming from the government in Pristina, must be solved in higher instances.
"As far as further developments are concerned, they must be resolved in higher instances, between Belgrade, Pristina and Brussels. Northern Serbs will receive, will wait and demand instructions from their government in the Republic of Serbia and then we will see how the situation develops", says Bozhovic.
Meanwhile, guidelines issued by the government of Kosovo say that communal assemblies  must undertake necessary actions in cooperation with the Ministry of Local Government of the Republic of Kosovo, in order for the content of the statutes to be legal and to be used by elected communal authorities.
Officials of the government of Kosovo stressed that the government of Kosovo remains determined to impose order, democracy and normality in this part of the country based on the Constitution of Kosovo and calls on the new leadership of northern communes to respect the legal system of Kosovo. /ibna/