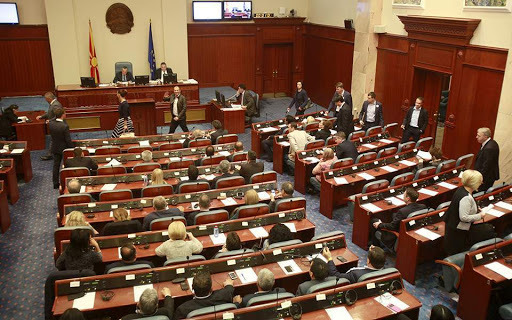 The government has decided to table to parliament the bill that will ratify North Macedonia's NATO membership earlier, so that the country won't miss the formalization process as a member of the Alliance, due to the April 12 election.
As such, a meeting will be held today in Parliament for the ratification of the Protocol for the country's accession to NATO, in the presence of Presidents and representatives of neighboring countries' parliaments, politicians and diplomats. The ratification is an additional step towards the country's full membership in the Alliance, as the 30th member state.
Ratification by the Spanish Parliament is still pending, which has not been possible due to the government crisis in the country. Ratification by Spain will trigger the completion of the NATO accession process.
Today's ratification session of the North Atlantic Treaty will be addressed by President Stevo Pendarovski, Parliament Speaker Talat Xhaferi, Technical Prime Minister Oliver Spasovski, as well as parliamentary group coordinators. President of the NATO Parliamentary Assembly Attila Mesterhazy will also address the MPs and the guests after the vote.
Prior to the opening session, Parliament Speaker Talat Xhaferi will have brief meetings with representatives of the parliaments of neighboring countries. Miroslav Tuđman Member of Parliament and Head of the Croatian Delegation to NATO, Vasilika Hysi, Vice President of the Albanian Parliament, Tsveta Karayancheva, President of the Bulgarian Parliament, President of the Parliament of Montenegro Genci Nimanbegu.
Former presidents and prime ministers, as well as leaders of SDSM Zoran Zaev and VMRO-DPMNE Christian Mickoski, as well as representatives from social and public life and the diplomatic corps, including ambassadors from NATO member states, will also be in attendance.
After ratification at 4 pm, a NATO flag-raising ceremony in front of Parliament will take place.
Following the settlement of the dispute between North Macedonia and Greece, with the signing of the Prespa Agreement and the lifting of Greece's reservations about North Macedonia's entry into NATO, the Ambassadors of NATO member states signed the Protocol of Accession to the Alliance.
In the last ten months, NATO's accession protocol has been ratified by 28 of the 29 members, with just Spain remaining. With the formation of a government by Pedro Sánchez, the Spanish government approved and submitted the protocol of accession to parliament late last month, calling for it to be ratified as a matter of urgency./ibna