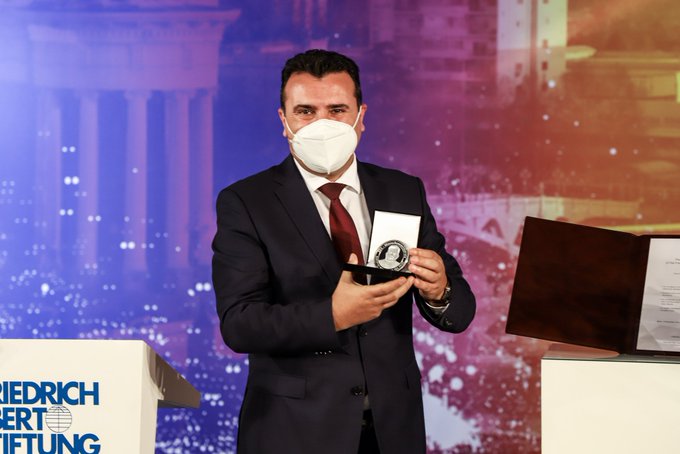 The Prime Minister of the Republic of North Macedonia, Zoran Zaev, was awarded the Friedrich Ebert Stiftung 2020 Human Rights Prize in Berlin.
Zoran Zaev was honored by European politicians who spoke at the ceremony organized by the Friedrich Ebert Stiftung Foundation and the award was presented by the Minister of Foreign Affairs of the Federal Republic of Germany Heiko Maas.
The President of the Friedrich Ebert Foundation, Kurt Beck, stressed that what Prime Minister Zaev did for North Macedonia and Europe is extremely important, because your contribution to human rights, especially through the concept of "One Society for All", is a contribution to the values ​​of the European Union.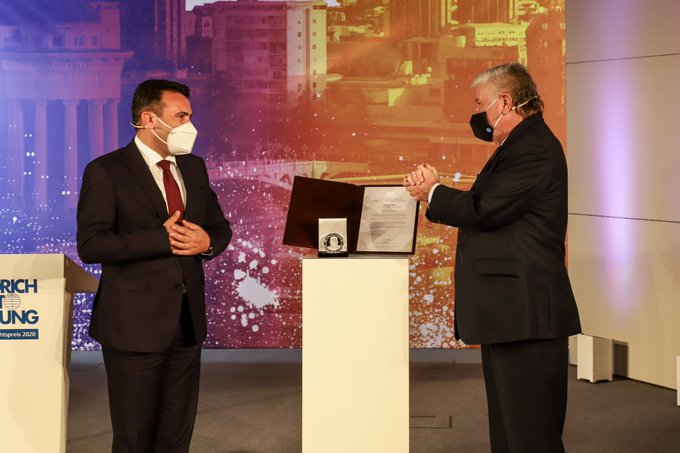 The Minister of Foreign Affairs of the Federal Republic of Germany, Heiko Maas, in his speech at the awarding ceremony of the Prime Minister of North Macedonia, stated that Zoran Zaev brought the dignity of democracy in his country as a first step towards Europe.
Maas stressed that his country, together with North Macedonia, will continue to work in the coming days to achieve the first intergovernmental conference during the German presidency. Federal Foreign Minister Heiko Maas stressed that the policies of Prime Minister Zoran Zaev raise hopes for many unresolved conflicts in this world and that he awards the prize to a reformer, a far-sighted politician and, above all, a European.
Many videos were presented at the ceremony with congratulations and very strong emotional messages for Zoran Zaev.
The former Prime Minister of Greece, Alexis Tsipras, stressed that the political achievements of Zoran Zaev speak for themselves. He highlighted the important political reforms, the historic Prespa Agreement, the Cooperation and Friendship Agreement with Bulgaria, the start of negotiations with the EU. Alexis Tsipras stressed that Zaev's actions showed courage and leadership skills that changed the fate of his country and the fate of the Western Balkans, and expressed hope that more European leaders will follow suit.
EU Special Representative for the Pristina-Belgrade Dialogue and the Western Balkans, Miroslav Lajcak, said in a video that Zoran Zaev reminded him of Nelson Mandela's statement that things always seem impossible until they happen, but Zaev did the impossible a reality with courage and responsible leadership, because he came up with solutions where others saw insurmountable obstacles.
European Commission President Ursula von der Layen emphasized that Zoran Zaev was one of those leaders who focused on the future and thus changed the course of history and brought North Macedonia where it belongs, to the EU.
The Prime Minister of North Macedonia Zoran Zaev will donate the money from the human rights award to the Health Solidarity Fund of North Macedonia for the fight against COVID-19./ibna