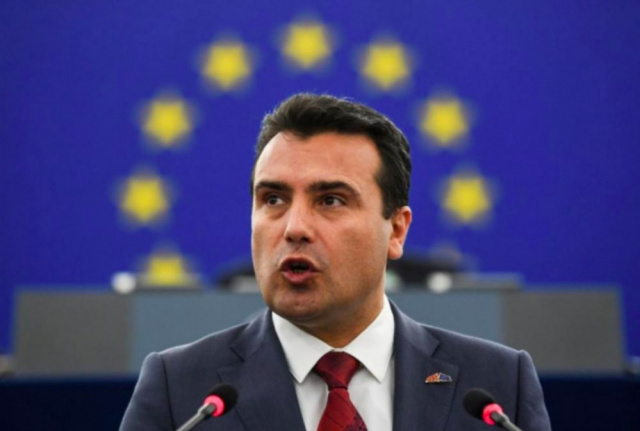 During his two-day visit to Athens, the Prime Minister of North Macedonia Zoran Zaev will meet today with the President of the Hellenic Republic, Ekaterini Sakellaropoulou, the Greek Prime Minister Kyriakos Mitsotakis and the leader of the opposition SYRIZA Alexis Tsipras.
The meeting with Aikaterini Sakellaropoulou is scheduled for 12:45 (local time), while afterwards, Zaev will participate in a working lunch given by his Greek counterpart, while in the evening he will meet with the leader of SYRIZA Alexis Tsipras.
Regarding the meeting with Kyriakos Mitsotakis, according to what Greek government spokesman Stelios Petsas announced on Monday, he is expected to discuss his country's European perspective, bilateral relations, and the implementation of the Prespa Agreement.
This morning, at the beginning of the second day of the Economist conference – "24th round table with the Greek government", Zaev, together with the Prime Minister of Albania Edi Rama will participate in a panel discussion dedicated to the Western Balkans.
The agenda includes the EU enlargement and the next steps, reforms to be implemented, trade and investment, while former Greek Foreign Ministers Dora Bakoyannis and Giorgos Katrougalos, now New Democracy and SYRIZA MPs respectively, will talk about the political perspective.
Deputy Prime Minister for European Affairs Nikola Dimitrov and Foreign Minister Bujar Osmani, who are accompanying Prime Minister Zoran Zaev on his visit to Athens, have separate schedules and meetings with their Greek counterparts.
Dimitrov will meet with the Deputy Foreign Minister of Greece, in charge of European Affairs, Miltiadis Varvitsiotis, at 16:00 (local time), while Osmani will have a working meeting with the Greek Foreign Minister Nikos Dendias, who will also meet and with Nikola Dimitrov.
While the second day of Zoran Zaev's visit to Athens is political, yesterday, the Prime Minister of North Macedonia discussed energy issues and the interest of North Macedonia to participate in the construction of a liquefied natural gas terminal near the Greek city of Alexandroupolis – as a new, independent entry point for the supply of natural gas in Southeastern Europe – at a meeting with Christos Kopelouzos, CEO of the Kopelouzos Group, who is a founding shareholder of Gastrade.
In addition, a memorandum of cooperation "for the Acceleration of the Process of Accession of the Republic of North Macedonia to the European Union" and a memorandum of understanding "for the establishment of a Coordinating Committee for Economic Cooperation" between Greece and North Macedonia were submitted for ratification to Parliament the ministries of Foreign Affairs and Development respectively.
The above memorandum of cooperation, on the cooperation of the two countries for promoting the process of accession of North Macedonia to the EU, signed in Skopje on April 2, 2019, is ratified and comes into force – as stipulated in article 28 par. 1 of the Constitution – with the first draft law of the Ministry of Foreign Affairs.
With the second draft law of the Ministry of Development and Investments, the above agreement, signed in Skopje on April 2, 2019, on the establishment of a coordinating committee for economic cooperation, is ratified and has the force defined by article 28 par. 1 of the Constitution./ibna