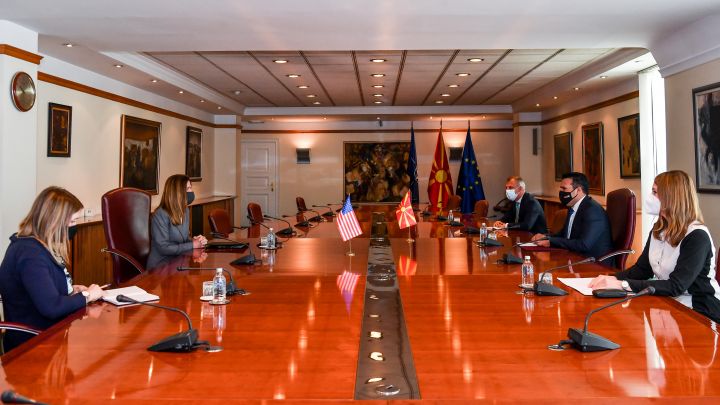 The Prime Minister of the Republic of North Macedonia, Zoran Zaev, met with Kate Byrnes, Ambassador of the United States of America to Skopje.
It was concluded that the policies of dialogue open perspectives for North Macedonia and the whole region, and the United States of America, as stated, is interested in positive processes in the region.
In this direction, the US support for the further progress of North Macedonia, after NATO and in the process of European integration, was transferred. They agreed that it was time for EU enlargement to continue, something that would encourage the entire Western Balkans, along with NATO prospects, for the countries of the region to continue to grow in line with democratic values.
Zaev thanked for the great support of the USA, as a key strategic partner in the development and democratization of North Macedonia and announced that the country will continue to provide arguments to continue the support of the United States and its international friends.
"We are focusing on positive developments regarding the next step of European integration, as well as on developing good neighborly relations with Bulgaria. We are pursuing reforms, as well as the fight against crime and corruption. The government is firmly committed to upholding the independence of the judiciary and the equality of all in front the law. As the pandemic improves, we expect an intensification of the pace of our large investment plan, which aims to improve the living standards of citizens economically and in line with European values," Zaev said.
The meeting welcomed the government's commitment to successfully tackling crime and corruption. It was also jointly assessed that it is important for all political entities to contribute to Parliament, on issues that are beneficial to the citizens.
"Consensus building and political dialogue are healthy for any democratic society, both as a NATO member state and as a country aiming to join the EU, we are determined to commit to this way of working," said the Prime Minister of North Macedonia.
The meeting also discussed the possibilities of promoting cooperation between the United States and the Republic of North Macedonia, in the field of health, energy, economy, as well as the preparations for the upcoming local elections in our country./ibna