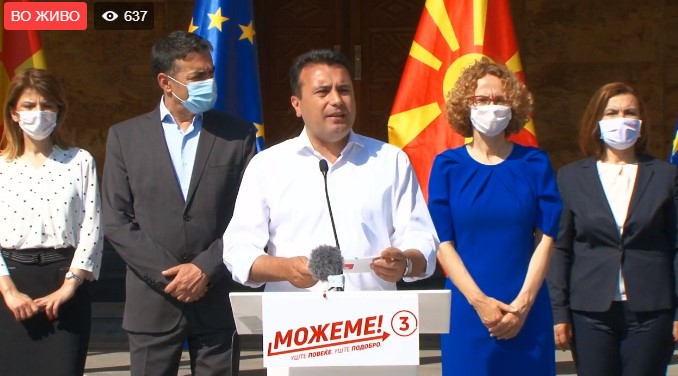 The findings of the latest poll conducted by the Brima News Agency on the elections in North Macedonia that will take place on July 15 – after the forced postponement of the scheduled elections of April 12, 2020, due to the new coronavirus – are worrying.
According to the poll, 48.9% of respondents do not trust any politician in North Macedonia, which may increase the percentage of citizens who will not go to the polls to vote, while posing questions to the leadership of the parties for their future political formations.
In terms of party rates, the difference between the two largest parties, Zoran Zaev's SDSM and Hristijan Mickoski's VMRO-DPMNE is 3.6% in favor of SDSM, as it receives 18.7% against 15.1% of the party led by Mickoski.
Although the difference of 3.6% was also recorded in the NDI poll a few days ago, Brima estimated the popularity of the party that cooperates with SDSM, Besa, which receives 2.6% and in combination with the percentage of SDSM, the difference with VMRO-DPMNE increases to 7.2%.
In addition, in the same poll, the DUI increases the difference from the Alliance for Albanians, as the former receives 8.2% and the latter 4.2%.
From the other parties running in the election, according to the Brima poll, Integra received 1.3%, the Left 1.2% and the DPA 0.6%.
According to the poll, 11.2% are undecided, while 9.3% refused to answer. Although 16.1% said they had not yet decided whether to vote, 41% said they would definitely vote, while 18.3% said they would not go to the polls.
Levels of trust in political leaders are extremely low, with Zoran Zaev enjoying the trust of 9.4% and Hristijan Mickoski of 4.2%. The Minister of Health, who managed the coronavirus pandemic, receives the trust of the citizens at a rate of 3.8%, while the President of the country, Stevo Pendarovski, is trusted by 3.5%.
What is interesting is the popularity of the leader of the Alliance for Albanians Sela, has a higher percentage of trust than the leader of DUI Ali Ahmeti, with 2.9% against 2.8%, while his party lags behind DUI. Dimitar Apasiev also appears in the research findings with a rate of 1.1 %./ibna