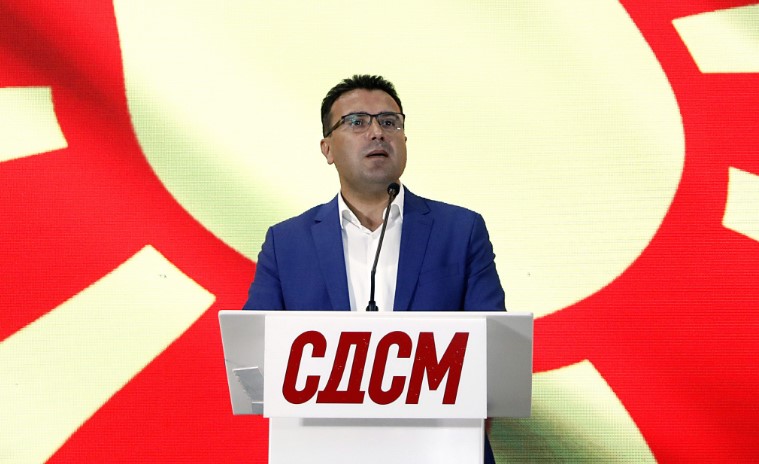 SDSM and DUI align their election programs with a joint government program to be unveiled soon, but the new government will not function as a cabinet with bound signatures, caretaker Prime Minister Zoran Zaev told a news conference after yesterday's central council meeting of the party. Coalition partners will make decisions together, Zaev said, stressing that the main pillars of the government's future work will be economic growth and capital investment, followed by the rule of law, the consolidation of the judiciary and the audit of property of state employees and EU accession negotiations.
Zaev explained that the number of ministers in the government is being reduced from 26 today to 19, and 11 of them will be from the "We can" coalition.
"Of those nominated by the SDSM, we have four women and four men ministers. "It's an important message to encourage gender equality in society", Zaev said. The women in the cabinet will be Radmila Sekernska (Defense), Mila Carovska (Education), Jagoda Shahpaska (Labor and Social Affairs) and Irena Stefovska (Culture).
The caretaker Prime Minister said the government would have four deputy prime ministers, three nominated by the SDSM and one by the DUI. But DUI's Artan Grubi, who will be deputy prime minister for the political system, will be his first deputy. This means, Zaev explained, that Grubi will replace the Prime Minister when he will not be able to chair the meetings or receive guests in his absence. "But the signing of the decisions remains with the prime minister", Zaev said.
The other Deputy Prime Ministers are Nikola Dimitrov (European Policy), Fatmir Bykyqi (Economic Policy) and Ljupco Nikolovski (Anti-Corruption, Sustainable Development and Human Resources).
Journalists were particularly interested in Nikolovski's role, so Zaev explained that the fight against corruption is one of the most important tasks of the new cabinet and the work of the SDSM Secretary General will be very important here. It is interesting that Rsdmila Sekerinska, who is the vice-president of SDSM, will no longer be the Deputy Prime Minister, but only the Minister of Defence.
Zoran Zaev announced that many wider secretariats and directorates will be formed within the government to work on specific issues of the country's operation.
He thanked the previous ministers proposed by SDSM, Renata Trenevska-Deskoska, Goran Sugarevski, Damjan Manchevski, Robert Popovski, Edmond Ademi and stressed that they will definitely have a place in some other institutions.
"The government needed a renewal", Prime Minister Zaev explained.
The SDSM leader did not want to leave dilemmas on foreign policy priorities and said the government would work to fully implement the Prespa Agreement and the Good Neighborliness Agreement with Bulgaria.
The Central Council has elected new MP Sanja Lukarevska as its chair for next year. It also decided to hold the party post-election congress in late September or early October, depending on the coronavirus situation./ibna