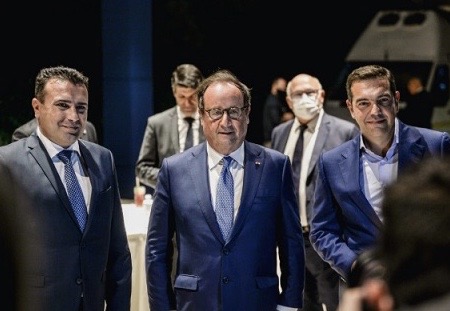 The Prime Minister of North Macedonia Zoran Zaev, who has been on a working visit to Athens since yesterday, announced on his Facebook profile that he had dinner last night with former Greek Prime Minister Alexis Tsipras and former French President François Hollande. The three agreed that "this is a time when together with the national interests of each country, we share solidarity and cohesion to take another step towards a better common future".
"We conclude the first working day of the respected Economist conference in Athens with the common conclusion that at critical moments caused by the COVID-19 pandemic, the peoples of Europe must be united in addressing the threat to the health of their citizens, public health, the economy and social life", Zaev said in a statement on Facebook.
He stressed that the COVID-19 pandemic has significantly changed our daily lives, but together we are here to become stronger, to overcome and defeat the threat it posed to health, the economic and social crisis.
"Together we are drawing up the strategy to get out of the crisis stronger and with a deeper friendship through dealing with the crisis", added the Prime Minister of North Macedonia Zoran Zaev on Facebook./ibna