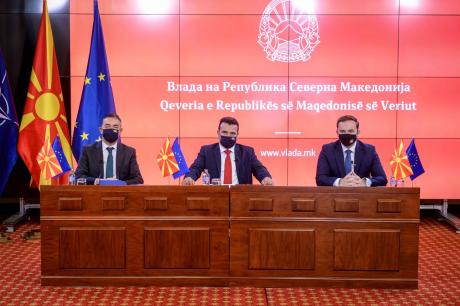 North Macedonia's first intergovernmental conference with the EU will be a positive message for the whole region, Prime Minister Zoran Zaev, Deputy Prime Minister Nikola Dimitrov and Foreign Minister Bujar Osmani said at an online meeting with the High Representative for Foreign Affairs and Security Policy, and European Commission Vice-President Josep Borrell.
The meeting was part of a series of online meetings with top EU officials agreed today, which include talks with European Council President Charles Michel, European Parliament President David Sassoli and EU Neighborhood and Enlargement Commissioner Oliver Varhelyi , as the government press office reported.
In an online meeting with the High Representative of the European Commission and Vice-President Josep Borrell, Zoran Zaev thanked the Vice-President for his personal contribution to the process of North Macedonia's accession to the EU, emphasizing the decision of the EU Council for negotiations for the country's accession to the Union in March, which marked a new era in mutual relations.
Zaev expressed hope that this support would be formalized with the approval of the Negotiating Framework early next month, followed by the first intergovernmental conference by the end of the year.
"The holding of the first Intergovernmental Conference of North Macedonia and the EU will send a positive message to the region and confirm the European perspective of the Western Balkans as a geostrategic interest of the European Union", said Prime Minister Zaev.
North Macedonia remains committed to developing good neighborly relations with the continued implementation of the Prespa Agreement and the Good Neighborliness and Friendship Agreement with Bulgaria, which brought new energy and contributed to the renewed intensity of EU enlargement with the countries of the region.
Zaev also stressed that the new coalition government and all institutions are fully operational and committed to continuing reforms and achieving results for the rule of law and the fight against organized crime and corruption as a top priority.
"The significant results achieved in strengthening the independence of the judiciary, the adoption of the law on public prosecution, as well as the results of investigations and final decisions in cases of corruption and organized crime, including at a high level, are recorded in the European Commission's annual report. North Macedonia will continue to be our focus with an open invitation to include the opposition in Parliament, as well as through dialogue with civil society and our international partners", said the Macedonian side in a conversation with Borrell.
The Economic and Investment Plan for the Western Balkans was assessed as extremely important in the online meeting, which is of great importance for supporting private sector development, transport and energy connectivity, digitization, the green agenda and social investment in region.
The strong EU common bond with the Republic of North Macedonia, said Prime Minister Zaev, was reaffirmed in support of the country in a joint response to address the consequences of COVID-19 and helped strengthen ties with the EU.
The High Representative for Foreign Affairs and Security Policy, and Vice-President of the European Commission Josep Borrell, stressed that it was extremely important for Brussels to continue intensive cooperation with a government that is committed to the EU integration process in North Macedonia, and expects the holding of the first intergovernmental conference as soon as possible, as he pointed out, for the common construction of the future. /ibna