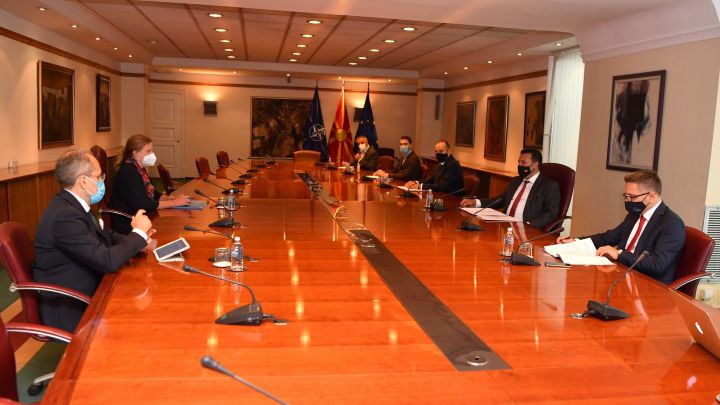 The Prime Minister of the Republic of North Macedonia Zoran Zaev, together with the Vice President for Economy, Coordination of Economic Departments and Investments Fatmir Bytyqi and the Minister of Finance Fatmir Besimi, received today a delegation of the World Bank represented by the Director General for Balkans, Linda Van Gelder and the bank's director for North Macedonia and Kosovo, Massimiliano Paolucci.
At the meeting, Prime Minister Zaev stressed the fruitful cooperation with the World Bank in a wide range of areas of key importance for North Macedonia in recent years in the reform and modernization of all sectors of the country's economy.
It was stressed at the meeting that according to the strategy for the cooperation of the Republic of North Macedonia with the World Bank, the support of this international institution focuses on skills development projects and opportunities, especially for the most vulnerable categories, municipal service improvement projects, infrastructure projects to improve road and rail infrastructure, promote social services, promote primary education, energy efficiency projects and more.
One of the main topics of today's meeting was cooperation to strengthen the public health system in the post-Covid period, as well as the World Bank's support in providing an integrated public finance management system.
In this regard, Prime Minister Zaev stressed at the meeting that cooperation with the World Bank and close cooperation in the future will focus on the digitization process as one of the systemic measures to combat corruption, along with supporting programs to combat it. παραοικονομίας./ ibna