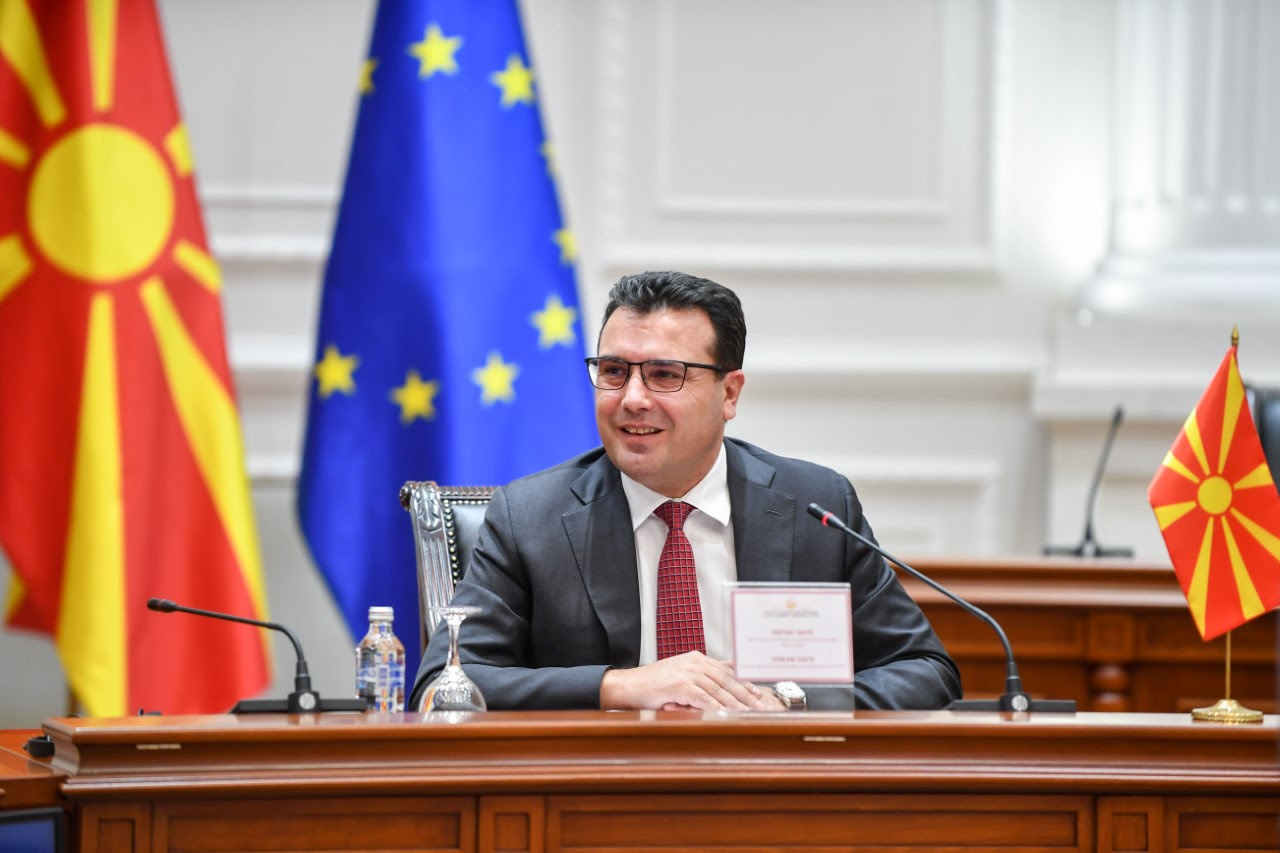 The Heads of Diplomatic Missions of the EU Member States in North Macedonia, led by the EU Ambassador David Geer, on Tuesday, at the regular annual meeting with the Prime Minister Zoran Zaev, showed particular interest in the activities for resolving the outstanding issues with the Bulgaria, due to which no consensus was reached on the negotiating framework for North Macedonia in Brussels.
At the meeting, as announced by the government, the common belief was expressed that the process should continue as soon as possible and end with the start of negotiations for the country's accession to the EU.
Prime Minister Zaev stressed the importance of continuing the dialogue with Bulgaria, in a spirit of mutual respect and in implementing the friendship agreement through more intensive cross-sectoral cooperation.
There is no alternative to North Macedonia's accession to the EU, Zaev reiterated.
"At the same time, we remain firmly determined on certain issues, which are our red lines, such as the Macedonian identity and the Macedonian language; we are not negotiating about them", the Prime Minister of North Macedonia added.
Zoran Zaev briefed on the current and most important activities of the European integration process, explaining to the ambassadors in detail the continuation of the ongoing reform processes, especially in the field of justice, the fight against corruption and the reforms in the public administration.
During the discussion, the Prime Minister welcomed the support for EU enlargement by the Ambassador of Portugal, Maria Virginia Pina, adding that is very important the position of the Portuguese Presidency that the start of negotiations with the Republic of North Macedonia is among the priorities and that Portugal will make every effort to hold the first intergovernmental conference with North Macedonia in the first half of 2021.
The Prime Minister of North Macedonia also shares the expectations from the integrated Economic and Investment Plan of the European Commission for the Western Balkans, which will mobilize funding of up to EUR 9 billion for investments in transport, energy, green and digital transition, development and sustainable development and jobs, boosting the economic development of the country in the period to come.
At the meeting, Zaev expressed gratitude for Brussels' support for the participation of the Western Balkan countries in the supply of vaccines against COVID-19 and expressed the hope that this process would be accelerated as a sign of continuity and solidarity in dealing with it.
"The unanimous support of the ambassadors of the EU member states for the clear perspective of North Macedonia as an EU member in the meeting is the strongest motivation for our reforms for the return of European values", said Prime Minister Zaev at the regular annual meeting with Head of Diplomatic Missions of the EU Member States in North Macedonia./ibna