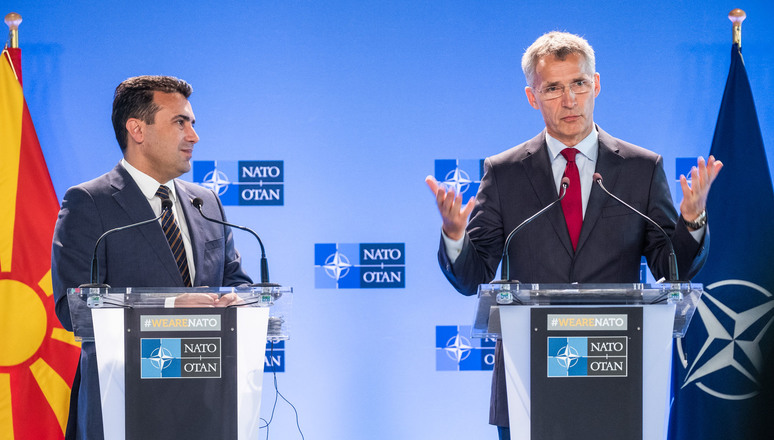 Prime Minister Zoran Zaev announced today from Brussels that, despite the financial difficulties caused by the pandemic, North Macedonia is determined to increase its annual defense budget by 0.2% per year, in order to meet the Alliance's request to reach the 2% of GDP target.
"The Western Balkan region is not an isolated island. Our region can only benefit from the Euro-Atlantic integration in an unprecedented way", Zaev stated during a news conference, alongside Alliance Secretary-General Jens Stoltenberg, on the occasion of the former's first visit abroad since taking office. He also announced that the government has kicked off a process of ratification of the agreements and protocols related to the accession to the Alliance.
The Secretary General wished Zoran Zaev for his birthday, while also congratulating him for his re-election as Prime Minister. As he said, for North Macedonia, NATO membership embodies an important achievement while, for NATO, North Macedonia represents a reliable partner. He immediately stated that North Macedonia as a member and partner will receive a new aid package to address the Covid-19 crisis, which will consist of 60 respirators and other medical equipment worth 1.4 million euros.
"This is NATO solidarity in action. We will not allow this health crisis to evolve into insecurity", Stoltenberg said.
Asked how NATO would help North Macedonia with the growing number of people infected with coronavirus, Stoltenberg said the number of outbreaks was spiking across Europe, and not just in North Macedonia.
"No country has been able to fully control the virus, and that is why NATO has long acted and supported efforts to tackle the pandemic, such as transporting patients, setting up hospitals, etc., with military personnel ready to support political structures. We have provided our support to North Macedonia and we will give even more", Stoltenberg said.
Asked why, six months later, there was still no confirmation of the proposal for a military representative to NATO and whether North Macedonia should send another, Stoltenberg referred to the process.
"NATO has certain standards, there are guidelines and procedures that must be followed when we have a representative approval process. What matters is that North Macedonia now sits at the table as an equal partner and decides equally with everyone else. Practical issues could always arise, but we will work through them together", Stoltenberg said. /ibna