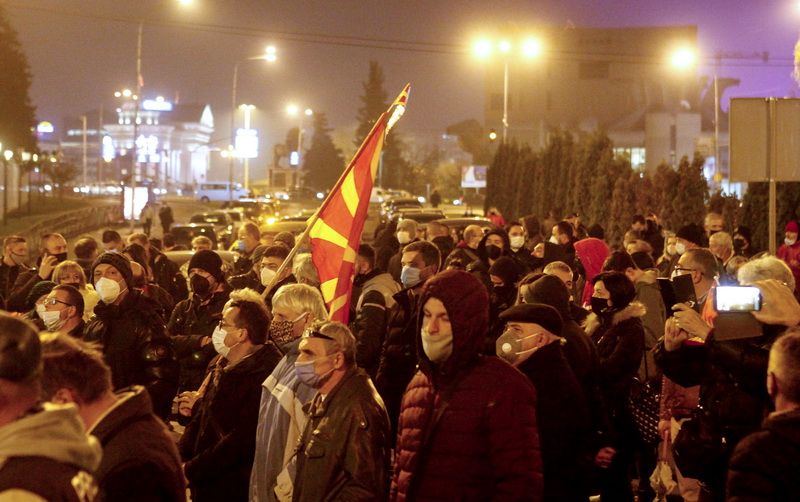 The opposition VMRO-DPMNE staged a protest rally in Skopje on Thursday night, blocking traffic in front of the North Macedonian government building, as well as in front of the Ministries of Justice and Foreign Affairs.
Under the slogan "Zaev's resignation, freedom of the people", protesters accused the government of selling out the state and endangering its national identity.
The president of the VMRO-DPMNE New Forces Union, Sergey Popov, during the protest in front of the Ministry of Justice, said that young people should not remain silent regarding the sale of national interests that is taking place by this government. Young people must not allow this country to be left without history, language and identity.
Toni Mihajlovski pointed out that now is the time for small interests to be forgotten and we must lend a hand regardless of ideologies, philosophies, the language we speak and to defend the language and the state.
Stefan Andonovski, a member of the VMRO-DPMNE Central Committee in the protest in front of the Ministry of Foreign Affairs, pointed out that Vlado Buckovski, Zoran Zaev, Bujar Osmani want to negotiate on things that are not negotiable.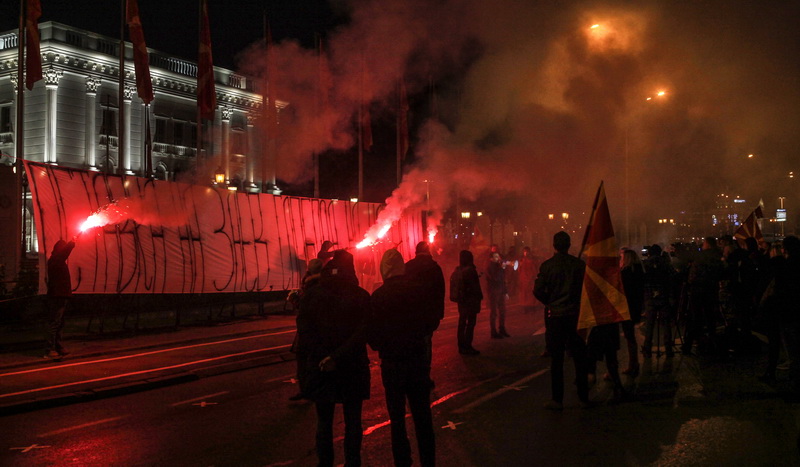 "The time has come for a resignation, a resignation for shame, for the lies they told us that we have a date for negotiations with the EU, a resignation because they said there would be no declaration or an additional agreement with Bulgaria, and they brought it, a resignation because they negotiated Macedonian language to be with a footnote. Mainly because they brought national shame to the people of 'Macedonia' and did not bring the EU", Antonovski said.
MP Rashela Mizrahi said citizens should oppose Zoran Zaev and his bad policies and nationalism.
"Zaev's policies lead to the loss of identity, language and history. If this is lost, 'Macedonia' is lost", he said.
Liupco Dimovski, during the protest in front of the government building said that "Macedonia" has a serious long-term problem that this government neither knows nor knows how to solve. Culture and language cannot be traded. The betrayal of Macedonia is not for the Macedonians but for their own interests, and only Zaev and Dimitrov were able to do it. Now the special representative Buckovski does it as well", Dimovski said.
According to him, the Bulgarian demands are not diminishing and Zaev is trying to impose something unacceptable on us, forcing us to make unacceptable concessions.
Dimovski stressed that no one can decide on such an issue alone; there must be a consensus on such an issue, he concluded./ibna