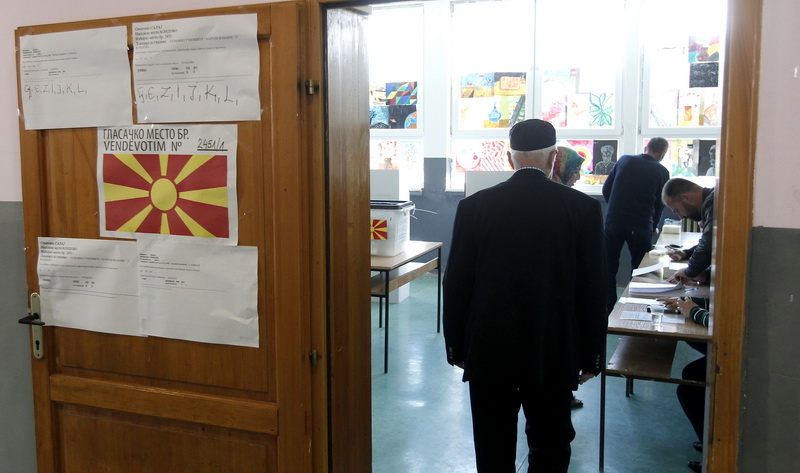 VMRO-DPMNE President Hristijan Mickoski today ruled out the possibility, in the event that his party won the upcoming elections, of supporting a coalition with one of the Albanian parties on the basis of the "winner-to-winner" principle endorsed once again by DUI. He does not, however, rule out the scenario of doing so with DUI, provided that their programs are compatible.
"Life is not a game, and in life there are principles that, once broken, are no longer principles. And in my name, I can tell you that the policies pursued by VMRO-DPMNE are based upon principles, and since that principle has been violated, we have stated in a televised interview that the future coalition will be program-based and we will not be changing that principle", Mickoski said, answering questions from reporters after visiting the Chamber of Commerce.
Asked if such a stance meant that DUI would not be included in a possible coalition if it ended up being the winner in the Albanian bloc regardless of its program, Mickoski noted that anyone who had a political program that is compatible with that of VMRO-DPMNE, who would agree upon a set of principles and would operate for the next four years, could be taken into consideration.
"If you play in an orchestra with different notes then it makes sense that the orchestra doesn't sound nice to the listeners", Mickoski said, adding that all political parties, including DUI, were being considered for a coalition.
The statement came after DUI leader Ali Ahmeti reinstated the "winner-to-winner" principle, that is, the new government that will emerge from the elections to be formed by parties that will win the two blocs. DUI spokesman Bujar Osmani reiterated that the 2006 and 2008 elections have shown that the state cannot allow this to happen again.
However, it remains unclear how such a principle could work under conditions where the ruling SDSM is negotiating a pre-election coalition with some Albanian parties. According to SDSM leader Zoran Zaev, negotiations on expanding coalition with partners from the Albanian bloc are expected to be completed by March 9, that is, until the party's congress, when the candidates' nominations will be determined. The lists will then be submitted to the State Election Commission by March 12.
Zaev believes SDSM holds an advantage in terms of negotiating a coalition for the upcoming early parliamentary elections with all parties, and especially with those coming from the Albanian bloc. Zaev did not specify with which parties he was holding coalition talks and whether, besides Besa and the DPA, they were also talking with other parties.
DUI opted for the autonomous descent in the upcoming elections, but the Alliance for Albanians and Alternative signed a coalition agreement.
The leader of the Alliance for Albanians, Zjadin Sela, after signing a pre-election coalition agreement with Alternative said no suitable conditions had been created for such pre-election coalitions with any of the Macedonian parties.
Meanwhile, regarding the announcement of a possible alliance between SDSM, Besa and DPA, Ahmeti once again stated that he saw nothing in this coalition because he knew nothing about that coalition. /ibna