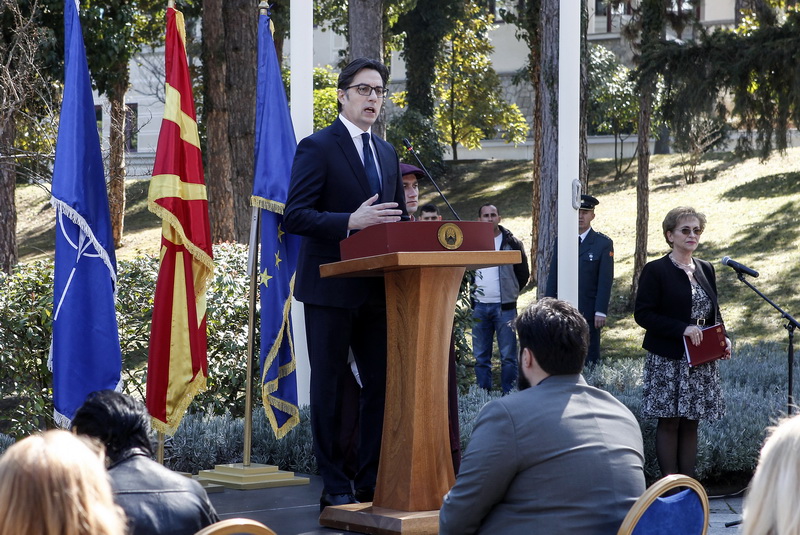 Following the convergence of the Security Council meeting, President Stevo Pendarovski said the situation had improved compared to the previous period and that the strategy to tackle the coronavirus was bearing fruits.
Regarding the request for the state of emergency to receive an additional 30-day extension, the Prime Minister of the Caretaker Government of North Macedonia Oliver Spasovski informed that after the meeting the President had decided to accept the request, but only for a 14-day period. As he explained, the reason lied in the need to mitigate the socio-economic consequences of the health crisis, in order to enable the government to issue decrees.
As for the claims that the government is using the state of emergency for bribes, Pendarovski said that such abuses are not possible with EBRD funds. As he said, the decision on the state of emergency had nothing to do with the date of the elections. He explained that the measures and restrictions that were not directly related to the state of emergency did not derive from it either, as some believe, urging the government to consider withdrawing them, as the state of emergency was not an obstacle.
Asked what the Central Election Commission's opinion was on the elections, Pendarovski said the issue had been raised and that Minister Nikola Dimitrov had been reassured by the ODIHR that it could send observers.
In addition to the published opinion and the protocol of the Committee on Health Diseases, there was also the position that, until a vaccine was found, the elections would be held either here or somewhere else under a special regime. The Central Election Commission has again announced the deadlines but, as he explains, it cannot decide the date of the elections and will have to adapt to the existing decision. As he says, the members of the Commission are top professionals and the material submitted to him was adopted unanimously and no one opposed it.
"And let me repeat", Pendarovski said, "the Commission does not decide on the date, and whoever it is that does, they will be respected".
As for the anti-discrimination law, Pendarovski said he had no interest in it, but the Parliament and the local services did. This law was passed with more than 50 votes, and it was considered that the re-vote could be by a majority, although in reality, after his return from the presidency, he would have to have 61 votes.
According to the plan, the next Summit of Leaders is scheduled for Monday, but it has not yet been confirmed that everyone can participate, so he left a window open for a different day or for later next week. /ibna