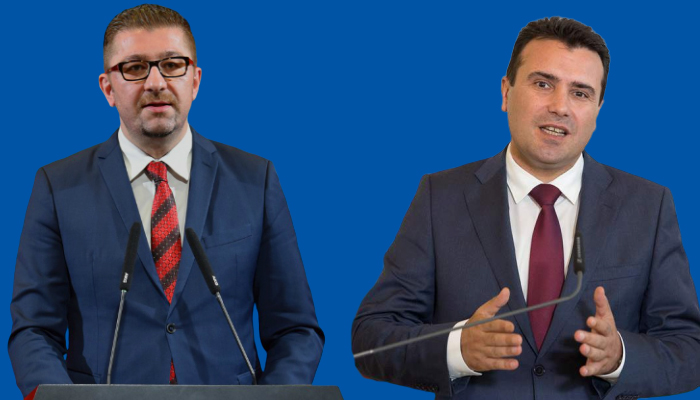 The government considers that there is no need for a meeting with VMRO-DPMNE leader Hristijan Mickoski over misunderstandings with Bulgaria. VMRO-DPMNE, on the other hand, says that if it was important for Prime Minister Zoran Zaev for the country to move forward, he would host a leaders' meeting and discuss all open issues.
"I do not see the need for a leaders' meeting. Especially with a person who has no place in any important, national or strategic issue. Mickoski is not in favor of an agreement on any issue, he is only looking for a way to harm the country, especially in processes that do not lead to the EU", Prime Minister Zaev said yesterday.
SDSM spokeswoman Bogdanka Kuzeska, answering a reporter's question at yesterday's press conference, said that the Macedonian language, identity and uniqueness of North Macedonia are being confirmed and recognized internationally by the whole world.
"With our neighbor, Bulgaria, we have a Cooperation and Good Neighbor Agreement, which by the way is signed in the Macedonian language as well. We expect in the spirit of this Agreement to continue to build relationships together. We express our desire to resolve the issues arising from the Agreement through the work of the committees that have jurisdiction", Kuzeska said.
VMRO-DPMNE leader Hristijan Mickoski said yesterday that serious issues, such as negotiations with Bulgaria, should be discussed at a meeting of political party leaders.
"Zoran Zaev is expected to reject the initiative of President Mickoski for a meeting of political party leaders where all important issues in the country would be discussed, because he must admit that the Government and Zaev have been defeated in all areas, in the external planning, health, economy, education, corruption and everything else", VMRO-DPMNE points out.
Prime Minister Zaev will leave for Sofia in early November as part of the North Macedonia-Bulgaria co-chairmanship of the Berlin 2020 process, where he will meet with his Bulgarian counterpart Borissov, where a rapprochement is expected.
"I want to visit Bulgaria and I do not hide my wish, for my first official visit from the neighboring countries, to be in the Republic of Bulgaria for the sake of friendship, because this is how the first term started and I believe that great successes have been achieved in the country during this period and I believe that this will happen again", Zaev noted, stressing that when there are solutions (out of the crisis) with Bulgaria, they will be announced immediately./ibna