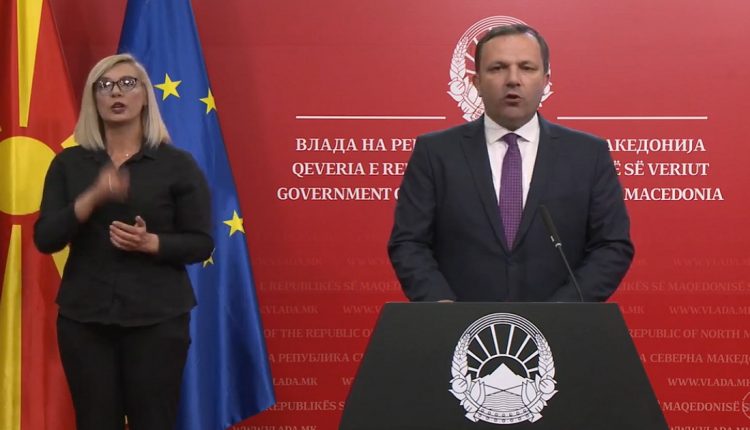 "The choice has been made, the direction has been confirmed, North Macedonia continues on the right path towards a safe and European future", caretaker Prime Minister of North Macedonia Oliver Spasovski stated today.
In a press conference at the Government, one day after the elections, Spasovski stressed that yesterday, the citizens and the government showed European capability, proved that the country deserves to be a NATO member and just one step away from starting negotiations with the EU.
The elections, according to Spasovski, were crystal clear, and the will of the people must be translated into legal institutions as soon as possible, especially because, as he pointed out, serious and correct decisions must be made given the current situation with Covid-19, but also due to the second strategic goal, that is, European integration.
Spasovski also appealed to the State Election Commission (SEC) to announce the results of the vote, because, as he noted, citizens were waiting.
"The winner of yesterday's elections is every voter, every participant in the electoral process, and above all the Republic of North Macedonia as a whole. Our country has shown that it constitutes a commendable NATO member before negotiations with the EU kick off. As a government, as a society and as a state, we have once again demonstrated European values ​​in action, we have organized safe for health, peaceful, fair, democratic, free and European elections, as befits a country one step closer to the commencements of its EU accession negotiations. Through the elections, we have shown how the country truly loves itself, how achievements are preserved and how new arguments on the accession prospects are delivered. "These crystal-clear, fair and democratic transparent elections are yet another proof that, when there is democratic commitment and democratic organization, there are democratic results, a reflection of the free will of the people", stated the caretaker Prime Minister.
We are undergoing, he added, a period of forming fully functioning institutions that will take absolute care of citizens' health and will work towards the second strategic goal; European integration.
"The will of the people must be transformed into legal institutions as soon as possible, through a new assembly and government. I expect the SEC to contribute to this process; the citizens are waiting for the results of the elections, the SEC is obliged to step forward and announce them", Spasovski added.
The Prime Minister thanked the citizens for the vote and the institutions, in particular the Commission for Infectious Diseases, for organizing the electoral process.
"We should be proud of yesterday's fair and democratic election day, in which it was the will of the people that won", Spasovski said. /ibna