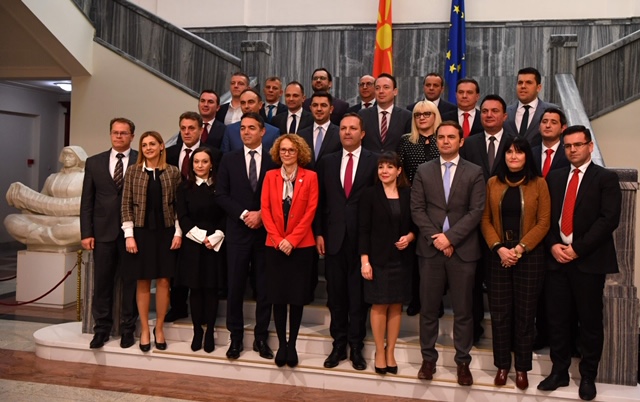 The North Macedonian MPs approved with 101 votes the transitional caretaker government that will lead the country to early elections on April 12. The primary priority of the caretaker government will be to organize and carry out fair and democratic parliamentary elections.
The newly appointed Prime Minister Oliver Spasovski said in a statement after the voting procedure that the country was at a critical juncture, with all of the country's institutions expected to function properly.
Earlier, Parliament Speaker Talat Xhaferi had announced the resignation of Prime Minister Zoran Zaev, with President Stevo Pendarovski mandating afterwards Minister of Internal Affairs Oliver Spasovski to form a caretaker government.
The only changes that will be made in the composition of the last government of Prime Minister Zoran Zaev will take place in Ministries in which it has been agreed for VMRO-DPMNE to nominate Ministers. Therefore, Mila Jarovska will replace Kocho Angiusev, who stepped down from the post of Deputy Prime Minister for Economic Affairs. Nake Shulev will be appointed Minister of Internal Affairs in the caretaker government, while VMRO-DPMNE-appointed Rachela Mizrahi will serve as Minister of Labor and Social Policy.
The main opposition party also proposed additional deputy ministers in the Ministries of Agriculture; Information Society and Administration; and Finance.
SDSM also proposed deputy ministers in the Ministries of Internal Affairs and Labor and Social Policies. The Deputy Ministers will be elected in a new session. /ibna