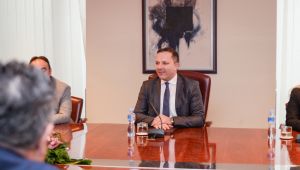 A meeting was held Wednesday between Prime Minister of North Macedonia Oliver Spasovski and government officials with officials from the State Election Commission, on the organization and conduct of fair and democratic early elections.
At the meeting, the participants expressed their strong joint commitment to organize and hold fair and democratic elections.
We have shown as a state in previous elections that we can organize and conduct fair elections. Let us continue this positive trend in these early parliamentary elections as well, in the name of our country's democratic and future integration, Prime Minister Oliver Spasovski said.
The meeting discussed the steps taken to ensure proper voter registration, as well as the logistical, spatial and housing needs identified by the Electoral Commission to ensure the smooth conduct of the elections.
In this context, many conclusions were adopted: first, the Election Commission will submit to the government the requirements for the materials and technical requirements for the elections, and a joint meeting of Prime Minister Spasovski with government officials and representatives of the Electoral Commission, with a representative of the Election Commission, was agreed, in order to provide the necessary spatial and other conditions for citizens to exercise their constitutional right to vote.
This was the first meeting on the subject of the elections, organized by Prime Minister Oliver Spasovski, with relevant stakeholders, on the procedural details of the forthcoming election process./ibna