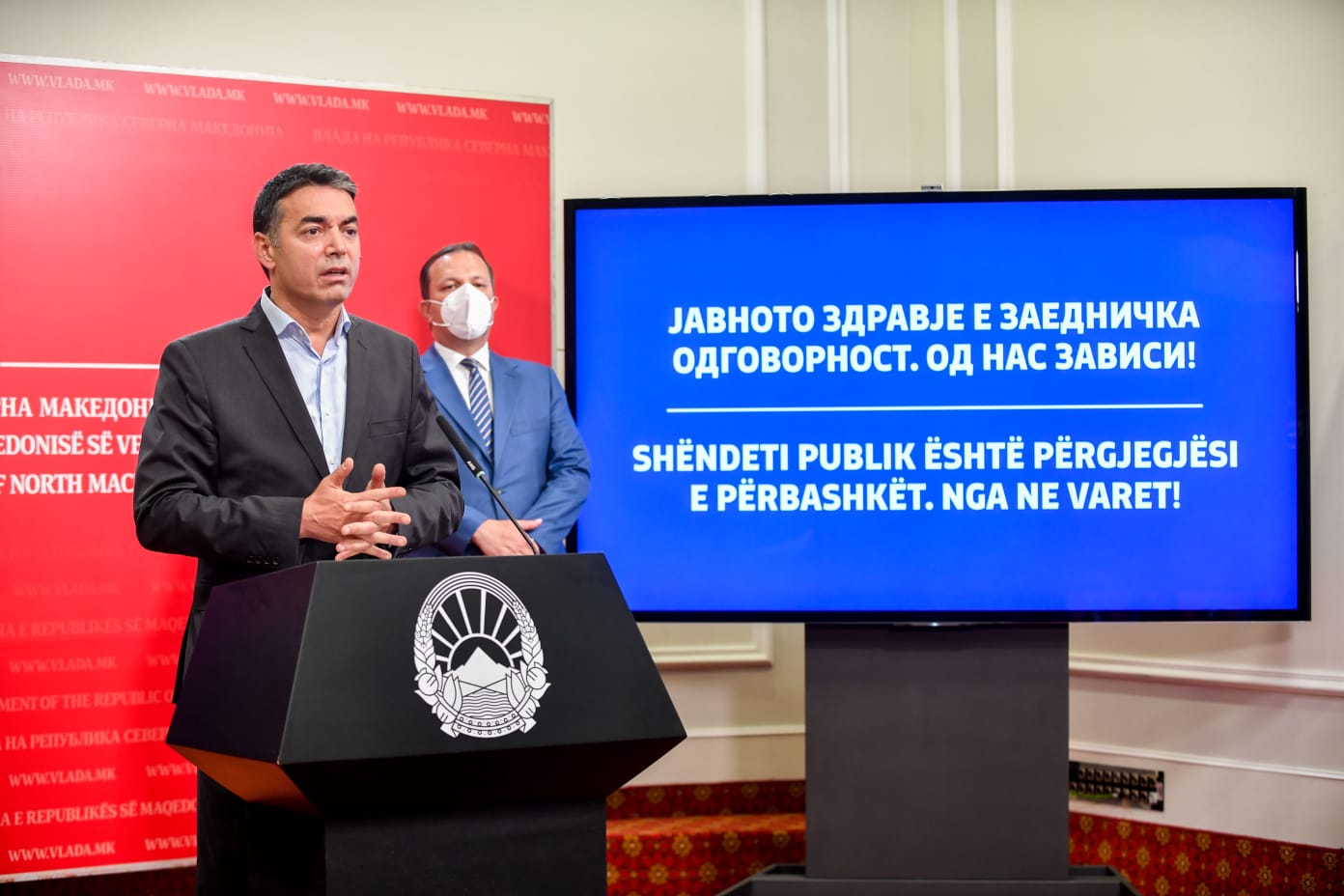 Caretaker Prime Minister of North Macedonia Oliver Spasovski and Foreign Minister Nikola Dimitrov have a joint press conference on the occasion of the determination of the Negotiating Framework for EU Interstate Negotiations on Thursday.
Spasovski noted that another very important stage in the process of the country's accession to the European Union has been successfully achieved.
"This decision confirms that there are no deviations from the established procedure. The framework of the road that brings North Macedonia even closer to its accession to the Union has been defined. "Our country's accession to the EU is gaining momentum to join the family of peoples united around the European idea", Spasovski said, adding that the good news came after the Council of Europe's historic decision to start talks on EU integration on March 26 this year.
The Prime Minister of North Macedonia stressed that we have steps forward to accelerate the process of Europeanization of all sections of society. A process that will help European standards in all areas to be implemented and implemented at home, in our social and political daily life.
"In just three years, apart from internal reforms, our country has taken the most historic steps internationally. We have done so in accordance with the highest standards of diplomacy and international politics. All the leading democracies in the world have recognized this and have given us remarkable recognition as a country that everyone now wants as a partner. We have become equal allies of the Member States in the most powerful military security alliance in the world – NATO. As of yesterday, we are accelerating the EU integration process. We have revealed the procedures for our country's two strategic commitments and we have made significant strides in just three years. Rarely has anyone in the region shown such a performance of the state, especially for a country that until 2016 was considered a captive state", Spasovski said.
Oliver Spasovski stated that the government approved in July 2019 all the necessary steps to set up negotiating teams and that the country's negotiating teams have already passed the preparatory technical audit for all the funds and that we are ready to start with full capacity and negotiate successfully at a fast pace.
For his part, Nikola Dimitrov stressed that the European Commission has fulfilled its duty and, based on the new methodology, proposed a more specific, more dynamic, more reliable negotiating framework, which gives Member States space to participate directly with their experts in the negotiating countries and to participate with their own contribution in the progress reports.
"Following yesterday's good news from Brussels, on the very first day of the German presidency of the EU Council and after the harmonization of the negotiating framework and its approval by the Council, ie the Member States, comes the first intergovernmental conference which is the first specific step and forum for political and reformist dialogue between North Macedonia and the European Union. That requires a government with a political mandate", said Foreign Minister Nikola Dimitrov./ibna