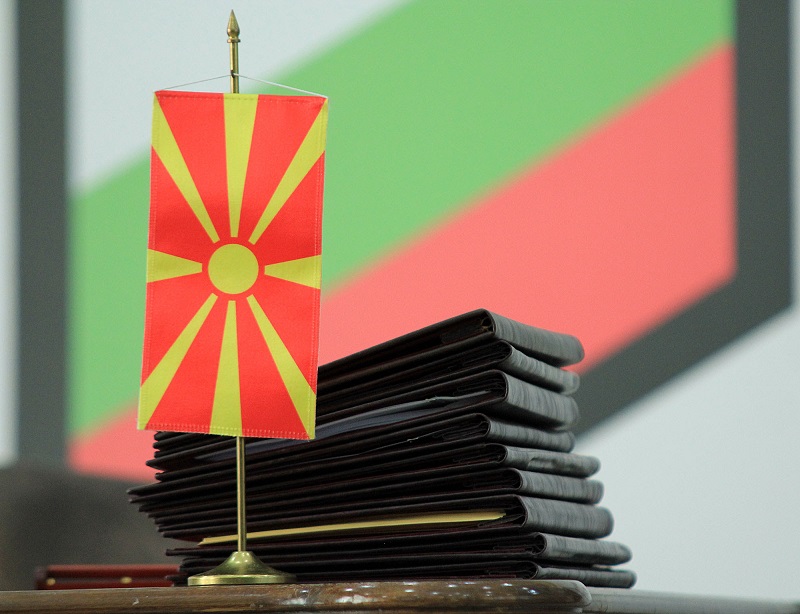 The Bulgarian demands contradict European values ​​and drift away from the Good Neighborliness Agreement. However, North Macedonia will continue to seek a sensible solution to overcome the differences. There will be no negotiations on language and identity.
This describes in a nutshell yesterday's reactions and views on the Bulgarian veto and the developments on the Skopje-Sofia path.
North Macedonia still believes there is an opportunity to hold the first Intergovernmental Conference under the German Presidency, as long as the forthcoming period is used productively.
According to Bulgarian Minister Ekaterina Zaharieva, support from Bulgaria has never been unconditional.
"The authorities in Skopje have been aware for a long time now that there are problems that have not been resolved in our bilateral relations", Zaharieva said in a televised address yesterday. She denied that Bulgaria had received pressure from Germany to compromise in the negotiating framework. She reiterated that Bulgaria respects its neighbors and is interested in the European integration of the Western Balkan countries.
Former Bulgarian Foreign Minister and former MEP Ivaylo Kalfin, in an interview with the Bulgarian portal "Focus", said that Sofia should not have pulled out the big guns by blocking Skopje. Now, Kalfin said, Bulgaria must build relations with North Macedonia very quickly, but on a "completely new basis". As he claims, Bulgaria must clearly state what it wants and immediately start political talks to find a way out of this situation.
"Blocking the negotiations, regardless of whether we call it postponement, suspension, etc., basically means that Bulgaria made use of heavy artillery. Not only in diplomacy, it is good to show that you have big guns, but you should not to use them. The point is that we have already used it and this is to the great delight of all those who do not want to see Skopje become a European Union member, who do not want to see good bilateral relations; it generally fed their anti-Bulgarian campaign for the coming years" , Kalfin underlined.
For the Council of Ambassadors, the Bulgarian veto constitutes an "inappropriate act". Good neighborly relations can not be developed between countries denying the other nation's past, linguistic and cultural values, ​by vetoing the exclusive right of a Union Member-State to a candidacy or candidate country status, the council stated.
"With this inappropriate act, the Republic of Bulgaria has not presented itself to the world as a Europe-oriented country that respects and applies European values ​​and standards of self-determination, human rights, democracy, linguistic and cultural values ​​and diversity. If the possibility of an appropriate solution is lost by the time of the EU Summit, the opportunity to correct the principle of consensus in decision-making in a more modern and effective way will be perished", the Council of Ambassadors noted, calling on EU member states, and Bulgaria in particular, to make real efforts and help the European Council proceed with the right decision, that is, for North Macedonia and the EU to hold the first Intergovernmental Conference in December and kick off accession negotiations.
Newly-appointed French Ambassador to North Macedonia Cyril Bomgartner, in an interview with MIA said that talks are imperative in cases of bilateral disputes between a Member-State and a candidate country, but should nonetheless be done in moderation, as issues related to identity and language are always complex and delicate.
In an interview with Austrian television ORF, President Stevo Pendarovski stressed that Bulgaria's demands are contrary to European values ​​and are not included at all in the Good Neighborliness Agreement signed in 2017. Nowhere in the Agreement, Pendarovski emphasizes, is there any part clearly stating the obligation to debate on ethnicity and language.
Prime Minister Zoran Zaev is adamant that the goal is to build friendship and find solutions. Everything that is being discussed with Bulgaria falls within the framework of the Good Neighborliness Agreement.
Zaev does not accept VMRO-DPMNE's proposal for a meeting of political leaders, as he believes the rhetoric of the opposition party is not useful at all and can only incite disputes with the eastern neighbor.
In the German newspaper "SPIEGEL", the Prime Minister expresses his disappointment with the Bulgarian position, assessing it as "absurd and ridiculous" and recalling that the country has done a lot in the last three years in the direction of its progress towards European integration.
Deputy Prime Minister for European Affairs Nikola Dimitrov reiterated the North Macedonian government's position that the efforts to find a solution with Bulgaria will not stop, as they remain committed to finding a way out, but only, as he said, as far as conditions allow.
Foreign Minister Bujar Osmani also confirmed that North Macedonia will continue its efforts to seek reasonable solutions to overcome any differences with Bulgaria. "We remain committed to the reform process and to all other areas that are part of our priorities for European integration", Osmani said.
The EU position remains firm that the veto hurts everyone and should be overcome by the end of the year, said Defense Minister Radmila Sekerinska in a televised interview. The veto, Sekerinska believes, only strengthens those who have worked for toxic relations between North Macedonia and Bulgaria. /ibna