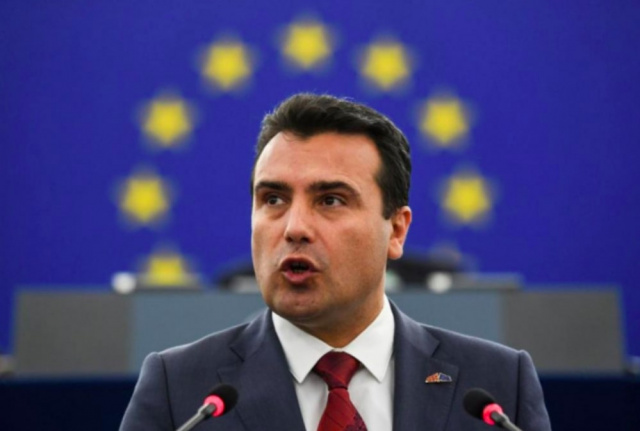 "Without Yugoslavia there would be no Macedonia"
The statements of the Prime Minister of North Macedonia Zoran Zaev about the role of Yugoslavia in his country's relations with Bulgaria, provoked reactions in the capital of former Yugoslavia, Belgrade.
Zoran Zaev, wanting to reassure Bulgaria, which is blocking the start of his country's negotiations with the EU, expressed a view that caused awe to many in Serbia, but also in the region.
"It was Yugoslavia that separated the Bulgarians and the Macedonians", Zaev claimed, with Serbian historians replying that if that was the case, then North Macedonia would have solved its problems by simply abolishing its statehood and joining Bulgaria.
In other words, Zaev brutally falsifies history and the fact that there would be no Macedonians now were it not for Yugoslavia.
This statement did not come unexpectedly, because it is clear that it is a matter of political tactics and that with this statement Zaev is trying to soften the hard line of Bulgaria, which recently vetoed in the context of the EU negotiations with North Macedonia.
The veto at the start of the accession negotiations by Bulgaria was used because, as she claims, North Macedonia violated the 2017 agreement because it did not recognize their common history and linguistic similarities. The two countries also clashed over the "claim" of Ottoman-era hero Goce Delchev.
Trying to find a solution to the impasse, Zaev decided to pretend to be a bad student deaf to history.
"Bulgaria and North Macedonia do not have a different history, but a common one, and that Goce Delchev is a revolutionary for both the Bulgarians and the Macedonians who fought for a free Macedonia and the region of Thrace. We inherited a period that was not in favor of our friendship. Yugoslavia separated us. "If we do not recognize historical weaknesses, we can not build the future", said Zaev, starting an "avalanche".
This claim did not go unnoticed, and caused particular dissatisfaction among those who study and interpret historical facts and data. One of them is the historian and member of the Progressive Club, Cedomir Antic, who told "Blic" that politics, not history, made this statement.
"This is not a statement based on history, but on political reasons, on the desire to justify Bulgaria's nationalist fantasies, which are preventing North Macedonia from following the path of EU integration. If this is the case, then North Macedonia has solved its problems, it should abolish its statehood and join Bulgaria", Antic said ironically.
He added that Yugoslavia offered North Macedonia a special nationality, regional autonomy, which they had already acquired with Vardar Banovina, and then allowed it to establish a people's democracy and independence without a single shot being fired.
"Bulgaria has never offered anything more than the status of the westernmost province of the Bulgarian Empire. When it comes to historical events, it is true that during the Middle Ages, the Slavs of Macedonia failed to establish their state, that they became part of the Bulgarian Empire first, but it is also true that after more than a hundred years it was part of the Serbian kingdom and the Serbian Empire. And it is also true that in the 19th century there were many more Slavs in Macedonia who felt like Bulgarians than Serbs, but also that almost no one felt like a Macedonian. It is a discovery of the 20th century, Antic noted.
"There would be nothing from the Macedonians if the Bulgarians did not attack Serbia in 1912 and if they had occupied most of Macedonia and the Serbs only the North and the West. Or it would be at the level of the green Krajisniks among the Bosnians. "So there would be very few of them", Antić noted.
When all the historical facts are compared, Zaev's statement is no longer a matter of politics or history, but a matter of common sense, notes historian Dejan Ristic for "Blic".
"These allegations are mainly on the other side of common sense, they deny historical facts. This is not a correlation, but a brutal falsification of history", Ristic argued.
Until the end of World War II, he says, Bulgaria was very active on the side of Nazi Germany and fascist Italy.
"The fact that it was one of the states whose territories were invaded by the Kingdom of Yugoslavia on 6 April 1941 also testifies to this 'activity'. At the same time, Bulgaria occupied a significant part of the territory of the Kingdom of Yugoslavia, where it carried out massive and systematic retaliation against civilians, as evidenced by the many places of execution", Ristic said.
He also states that in World War II, there was no Macedonian army, but the People's Liberation Army of Yugoslavia, whose members liberated the entire territory of the country, including the region of present-day North Macedonia.
"Therefore, the statement is not only unfounded, but also very harmful because it comes from a top government official", Ristic points out.
Contrary to this irresponsible statement, Ristic believes that the environment of the Federal Republic of Yugoslavia has activated and systematically supported the confirmation of Macedonia's national identity.
"Therefore, today's Macedonians, above all, should be grateful to Yugoslavia, and by no means to Bulgaria, which for a long time made efforts to deny all Macedonians. From the point of view of historical science, the statement is completely contrary to historical facts, and from a human point of view, it is extremely harmful and shameful".
Political analyst and former MP Djordje Vukadinovic says Zaev's statement surprised him, but he also believes it will not have the desired effect. He has already commented on this falsification of the story on Twitter, with the words: "My Zoran".
Without this bad Yugoslavia, which, as we hear now, "separates" you from Bulgaria, there would be no ("North") Macedonia, no Macedonian people, no Macedonian language (with or without quotation marks), Vukadinović wrote.
He told "Blic" that Zaev's statement is not only historically meaningless, but also politically harmful and that it will not have the result that Zaev aimed at.
"His policy was in a dead end after the benefits were lost after the agreement with Greece and the painful concessions. This was not sufficiently assessed by Brussels and its EU partner; he received only a pat on the back. He changed the name of the country, removed the sign from the highway and the airport and received a new slap in the form of blackmail from Bulgaria. "Now, since he swallowed one frog that had to do with Greece, he has to swallow another, which concerns Bulgaria, so that it will not appear that he have swallowed the first one for nothing", Vukadinović argues.
As he emphasizes, "during the black and blackened Yugoslavia and within its borders, the Macedonians took their name, language and state, and outside the borders of this Yugoslavia, there is no mention of Macedonia today"./ibna