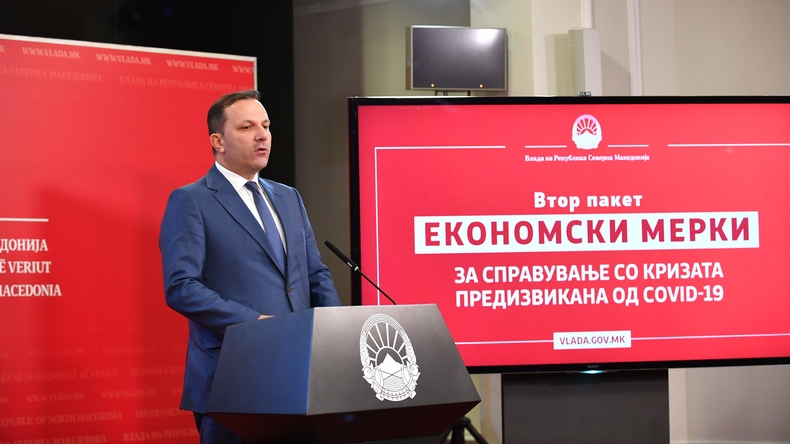 A new package of measures has been announced by the Government of North Macedonia looking to provide financial support for vulnerable social groups, businesses and workers affected by the coronavirus epidemic.
The measures include financial support for private-law legal entities affected by the financial crisis due to coronavirus; assistance to athletes and artists; monthly compensation amounting to 50% of the average wage will be handed out to those out of work because of the crisis.
In addition, elected and appointed officials will receive a minimum salary of 14,500 dinars for April and May 2020, while Presidents and members of the governing and supervisory boards of public institutions will receive no compensation during the crisis.
At the same time, people in the informal economy sector are cared for, while housing is provided. Auctions are suspended until the end of June; loans are postponed; loans to finance companies and leasing companies are reduced and rescheduled, while lease payments to social housing users are also postponed.
Additional interest-free loans for companies of 8 million euros are granted, alongside 50-million-euro low interest loans from the Development Bank of the Republic of North Macedonia, made available through commercial banks to protect the liquidity of companies
Kicking off bankruptcy procedures is also prohibited; the use of the first part of the annual leave is mandatory, while a fixed fund is set up for COVID-19.
Zaev pleased with the measures; Mickoski describes them as insufficient
SDSM President Zoran Zaev welcomed the government's acceptance and endorsement of much of the financial measures proposed by his party and the economic group.
According to the former Prime Minister, the second package of measures includes serious steps to maintain citizens' jobs in businesses affected by the crisis of the coronavirus epidemic, as well as measures to guarantee income for each employee during the crisis.
"These are measures worth 200 million euros; solidarity measures, mutual assistance in difficult situations, measures to help every family, measures to reduce costs for each household during the recession", Zaev noted.
"Today, all of us citizens, our whole society, our economy, we are all being tested. We will only pass this test if we show solidarity; if we help each other out", Zaev concluded.
VMRO-DPMNE leader Hristijan Mickoski described the second package as late and inadequate.
"I am not saying that there are no measures in there which are good and will help. But I'm telling you; I think the aid package as a whole is not real and it does not help out enough the economy and the citizens", Mickoski said.
He believes the measures for the economy and citizens "are a cause for great and serious concern as a black and serious economic recession is just around the corner".
In conclusion, he pointed out that the measures to support the economy constitute decisions that create the illusion that one has a job and that one has devised measures to support the economy. /ibna