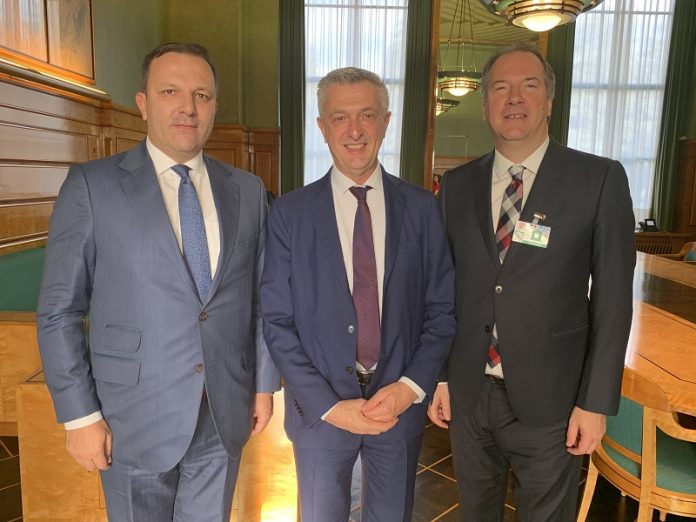 A delegation of North Macedonia officials, including Interior Minister Oliver Spasovski and Deputy Foreign Minister Andrej Zhernovski, held Tuesday in Geneva a bilateral meeting with UN's High Commissioner for Refugees Filippo Grandi.
North Macedonia's cooperation with UNHCR was praised at the meeting, the Ministry of the Interior said in a press release.
"The officials discussed current developments involving migrants, challenges arising from the numerous conflicts resulting in large-scale displacements and a prolonged humanitarian crisis," it said.
Minister Spasovski informed Commissioner Grandi about the ratification of the 1961 Convention on the Reduction of Statelessness and North Macedonia's accession to the international instrument.
"The government treats the matter as a top priority, being part of the action plan on the implementation of the Sustainable Development Goals and the pledge to leave no one behind. The government continues to be committed to creating and implementing its policies all the while respecting the basic rights and liberties of the citizens," he pledged.
Deputy Minister Zhernovski underscored the importance of international cooperation, calling for utmost efforts to be made to address the situation involving refugees that has been affecting the world.
"The capacity of the country to be able to tackle these difficult issues is what makes North Macedonia a serious international partner," he noted.
Praising North Macedonia for ratifying the UN Convention on the Reduction of Statelessness, Commissioner Grandi said it might be a small step for the country, but a huge leap for the United Nations.
Furthermore, he welcomed the courage and determination of North Macedonia in solving the name issue with Greece. "North Macedonia is a positive example for the region and beyond."
Grandi said that the country's efforts made as regards the situation of refugees were being highly appreciated and invited North Macedonia to become engaged with respect to social inclusion of refugees and curbing of statelessness.
"At the meeting, it was concluded that North Macedonia's cooperation with UNHCR will continue in order to find the best solutions for a legal framework making sure that all people have access to personal documents and are provided with a legal status," stated the press release./ibna