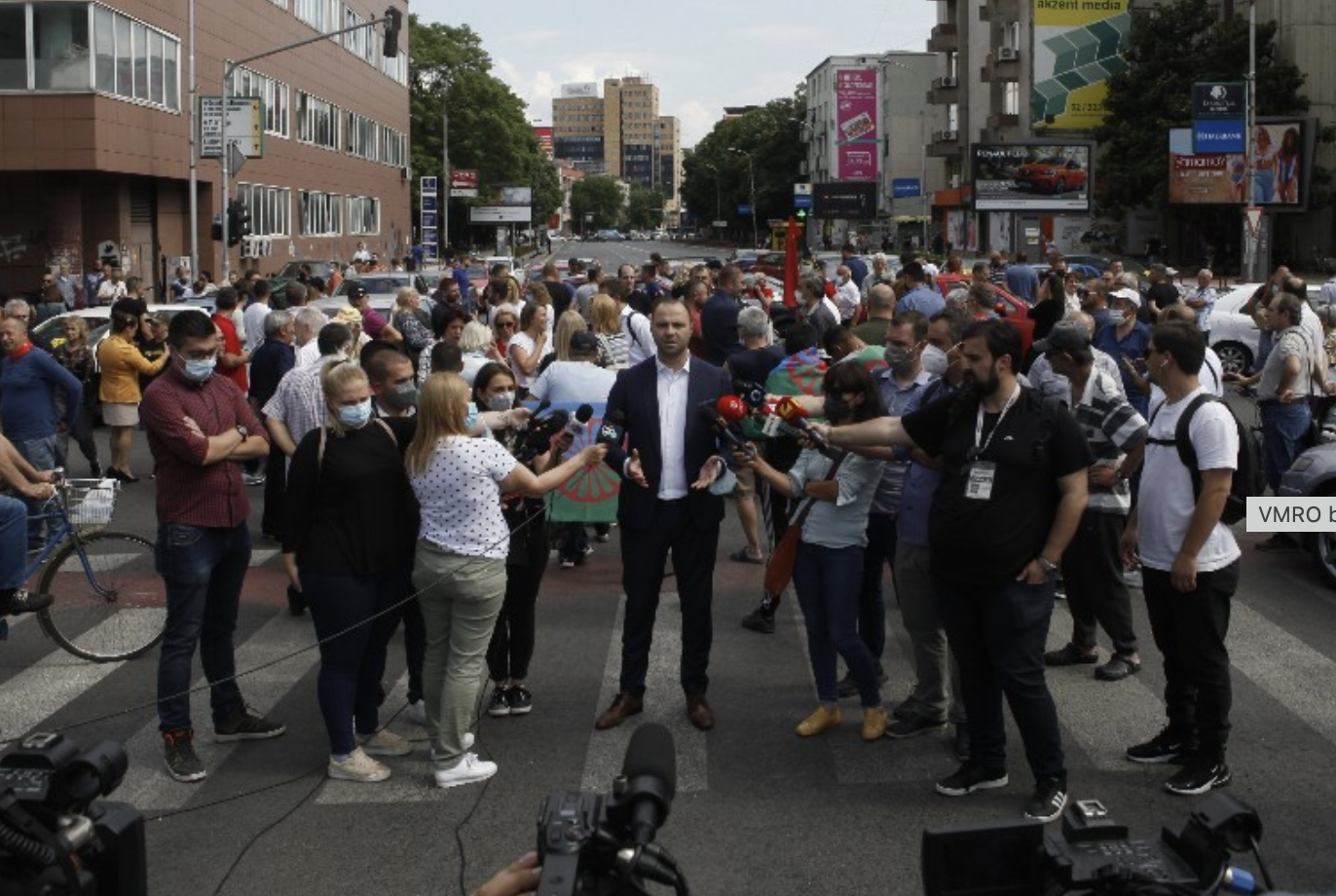 The opposition party in North Macedonia, VMRO-DPMNE, launched warning protests in three locations in Skopje, in front of Parliament, in front of the Mavrovka shopping mall and in front of the former Nova Makedonija building.
The protests are the only demand for the government, to make available to the public the so-called "roadmap" for negotiations with Bulgaria. VMRO-DPMNE claims that the Zaev-Buckovski duo is negotiating with the caretaker Bulgarian government over parts of the statement, which was approved by the Bulgarian parliament in 2019.
VMRO-DPMNE Vice President Vlado Misajlovski, in the protest in front of Parliament, said that if the government is transparent as it claims, it should announce the details of the negotiations with Bulgaria.
"We are here on the streets to raise our voice for the Zaev-Buckovski duo to say what they are negotiating with Bulgaria. To say what the road map is or whatever. "Zaef will play the role of a unique trader and will negotiate with identity, language and culture," Misajlovski said.
VMRO-DPMNE spokesman Naum Stoilkovski said live that UMS party youth leader Sergey Popov had been arrested for videotaping with his mobile phone, to which police responded violently, ordering him to stop. He objected to them arguing that he was videotaping in public and doing nothing illegal, and after refusing to carry out their order, he was taken to a police station.
Timcho Mucunski assessed that if the so-called road map incorporates positions that are acceptable to our citizens, if it does not incorporate the positions of the statement of the Bulgarian parliament, then the government should probably not be afraid to say what exactly it is negotiating in this process.
"VMRO-DPMNE, with the support of citizens and political entities, demands responsibility, growing national awareness and not to allow a new national humiliation that has become a practice. We live in a country that is one of the most corrupt in the world and certainly the most corrupt in Europe. We live in a country where the people are getting poorer every month and a country that is watching the national humiliation," he said, announcing a new protest in the coming days.
In Strumica, the VMRO-DPMNE protest was disastrous because only 10 members of the party gathered./ibna