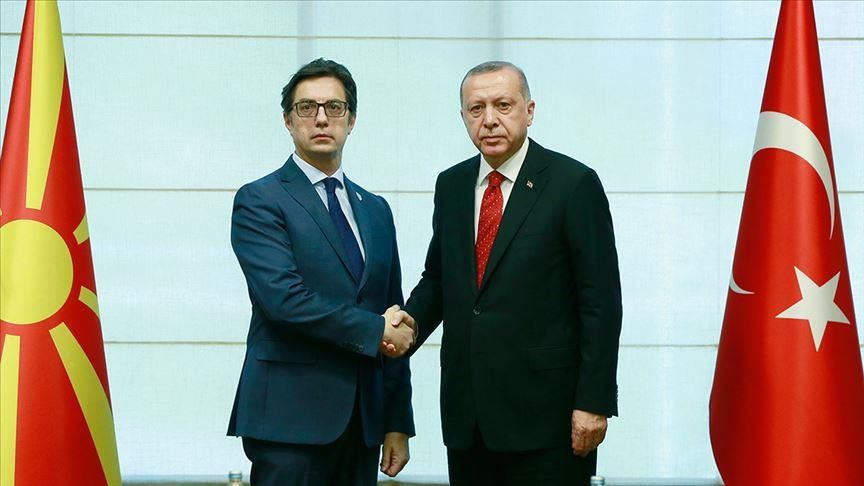 President of the Republic of North Macedonia Stevo Pendarovski had a phone conversation with the President of the Republic of Turkey, Recep Tayyip Erdogan.
During their discussion, President Pendarovski on behalf of himself and the citizens of the Republic of North Macedonia thanked President Erdogan for the medical equipment, uniforms, masks and test kits that arrived from Turkey, adding that alliance and solidarity between countries was important amidst these difficult times when dealing with the COVID-19 epidemic worldwide.
At the same time, President Pendarovski expressed his solidarity and support for Turkey in its efforts to tackle COVID-19, as Turkey is among the ten most affected countries with nearly 40,000 outbreaks and more than 800 deaths. In this context, he expressed his condolences for the victims and wished a speedy recovery to the COVID-19 patients.
Regarding the situation in the country in dealing with the COVID-19 epidemic and its impact, President Pendarovski informed President Erdogan that the situation was stable due to the fact that, amongst other things, North Macedonia was among the first countries in the region to introduce measures related to the pandemic. In this context, President Pendarovski added that the country was preparing for the challenges the economy was expected to face after the end of the pandemic, emphasizing the importance of strong economic ties between the two countries.
The two presidents expressed satisfaction with the excellent bilateral relations, with President Pendarovski thanking President Erdogan for Turkey's long-term and significant support in completing the NATO accession process, a strategic goal of North Macedonia, where the partnership will continue within a new context between the two members of the Alliance.
The Turkish Presidency stated that the two men discussed issues related to co-operation in the battle against coronavirus, alongside bilateral ties and regional issues. /ibna