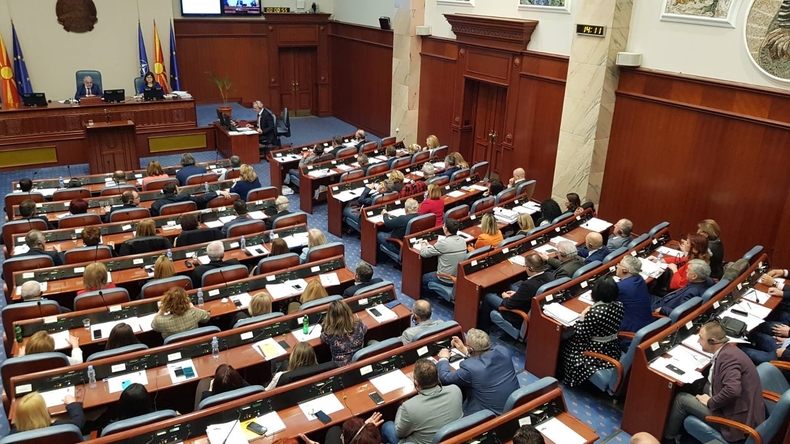 With an unanimous vote, the 108 members of the 9th North Macedonia Parliamentary Assembly voted for the dissolution of the House on Sunday afternoon, thus clearing the way for the early elections of April 12, 2020. Α complete divergence of views between the ruling party and the opposition was recorded in the speaches of representatives of the main parliamentary parties for the dissolution of the House.
House Speaker Talata Xhaferi said that according to Central Election Commission clarifications, today was the last day, in order for all legal procedures for the organization of the snap elections could be implemented.
In October 2019, following a proposal by then Prime Minister Zoran Zaev, it was agreed among the main parliamentary parties during a meeting with President of North Macedonia Stevo Pendarovski that early elections should be held, as the country did not receive a date for EU accession talks.
The ruling Social Democratic Party (SDSM) has argued that in the last three years, the parliament has made historic decisions that were important to the country's progress.
"For three years the Parliament has been through a lot of turmoil and problems, but we have made important and historic decisions that guarantee the country's future, its progress and stability", SDSM said.
Contrary to the ruling party's overview, the VMRO-DPMNE believes that North Macedonia is in a difficult political crisis and in the midst of chaos and that the government is amateurish and unprofessional.
"I am convinced that citizens will prove this and speak with their judgment on April 12", said VMRO-DPMNE's Nikola Micevski.
Talat Xhaferi spoke on behalf of DUI, thanking for the opportunity to be the first Albanian to lead the Assembly of Northern Macedonia.
The Speaker of the House said he was convinced that all the decisions taken in the last three years were for the benefit of the citizens and pointed out that his party's promises had been fulfilled.
Earlier in the 131st Session of Parliament, without the presence of VMRO-DPMNE, the Assembly adopted several urgent laws, such as the Law on Case Management, the Law on Personal Data, the Law on services of audiovisual media, the law on language control and the law on urban green.
Parliament Speaker Talat Xhaferi is expected to Announce the snap election of 12 April in North Macedonia on Monday/ibna