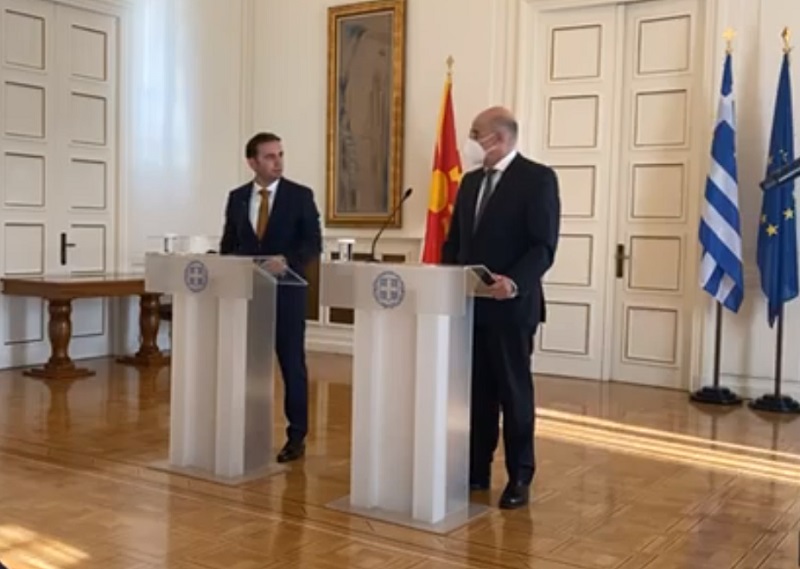 Foreign Affairs Minister of North Macedonia Bujar Osmani wrapped up his visit to Athens, during which he held meetings with the state and political leadership of Greece.
Bujar Osmani was received this morning by the President of the Republic Ekaterini Sakellaropoulou, with whom he discussed the progress of bilateral relations in post-Prespa Agreement era, the situation in the region and the European perspective of North Macedonia.
Osmani was then received by Greek Foreign Minister Nikos Dendias. In the joint statements that followed the signing of three agreements, Nikos Dendias noted that "we can not allow the creation of a stability gap in the Western Balkans," while warning that the gap could easily be filled by other non-European forces that pursue revisionism.
Continuing, the Greek Foreign Minister stressed that "Greece historically, but also actively supports the countries of the Western Balkans and their accession perspective," "as always based on the EU's conditionality, meritocracy and methodology," he added
"We firmly believe that this is the only way to peace and stability in the region. Europe has an obligation to keep European enlargement on the table."
Nikos Dendias stressed that Greece is ready to offer technical assistance to support the efforts of the Western Balkans to join the EU, stressing however that "we must have the full, consistent and in good faith implementation of the Prespa Agreement in order to achieve progress."
"Two years after the entry into force of the Prespa Agreement, we recognize that a great deal of effort has been made in its implementation. But of course more progress is needed."
It is a real pleasure to kick off the year with such a successful visit to Greece, said Osmani. "Our sincere intentions are to cross the border of good neighborliness as a proper political narrative, and to lay the foundations for building a deeper, long-term friendship between the two countries, as the highest expression of the success of politics and diplomacy."
"As a direct neighbor who is also a member of the EU, I believe that Greece's basic support for the start of negotiations for North Macedonia without further delay is particularly important. We appreciate this support and consider it one of the key contributions to building a long-term friendship between the two countries. In the same vein, I want to emphasize our NATO cooperation through the regulation between the two countries on the protection of airspace, which contributes significantly to the promotion of bilateral trust in terms of policy and security," Osmani stated.
The accession process of North Macedonia, as well as bilateral and European issues, were at the center of the meeting of Deputy Foreign Minister Miltiadis Varvitsiotis with the Minister of Foreign Affairs of North Macedonia Bujar Osmani, in the context of his official visit to our country.
The course of bilateral relations and especially the development of economic cooperation and interconnection between the two countries was the main topic of talks during the meeting of Prime Minister Kyriakos Mitsotakis with the Minister of Foreign Affairs of North Macedonia, Bujar Osmani. /ibna