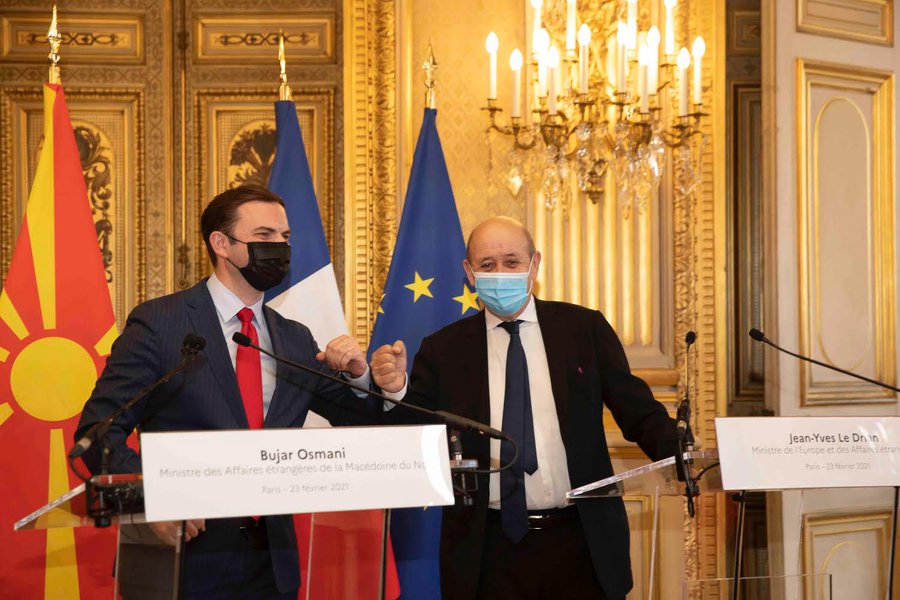 "We remain committed to reforms, developing good neighborly relations and promoting trust with Bulgaria. We see ourselves as part of the EU and we will achieve this primarily to ensure a successful future for our citizens, but also as our investment in the success of Europe's future," Foreign Minister Bujar Osmani said in Paris today.
During his visit to Paris, Osmani met with his French counterpart Jean-Yves Le Drian to discuss the country's European perspective, bilateral co-operation, the NATO alliance, the country's reform agenda and regional challenges.
"France is one of the main engines of the European Union and a strong European country, and we are grateful that today we reaffirmed its support for our European integration. We need these friendly messages because, despite the challenges, we do not want to leave room for frustration," Osmani said.
The two interlocutors, as announced by the Ministry of Foreign Affairs, also discussed the country's European portfolio in the context of the need to implement the EU Council decision in March last year.
"It is certainly a common obligation to maintain European credibility among the countries of the Western Balkans because not only we, but the whole continent needs a stable, prosperous and European region. And on this, we rely more on the initial support of the Member States; we rely on a fair relationship; we rely on the value system. I believe that today we also confirmed these principles with France," Osmani said.
To deepen bilateral cooperation, Osmani and Le Drian signed three agreements; one for the establishment of a French development agency, one for the co-production of films and one for the acceptance of a donation of a portable ballistic recognition system.
Osmani met afterwards with advisers to French President Isabelle Dumont and Alexandre Adam, as well as Senator Marta De Cidrac, while he will meet with Philippe Baudouin, deputy director general of the French Development Agency. /ibna