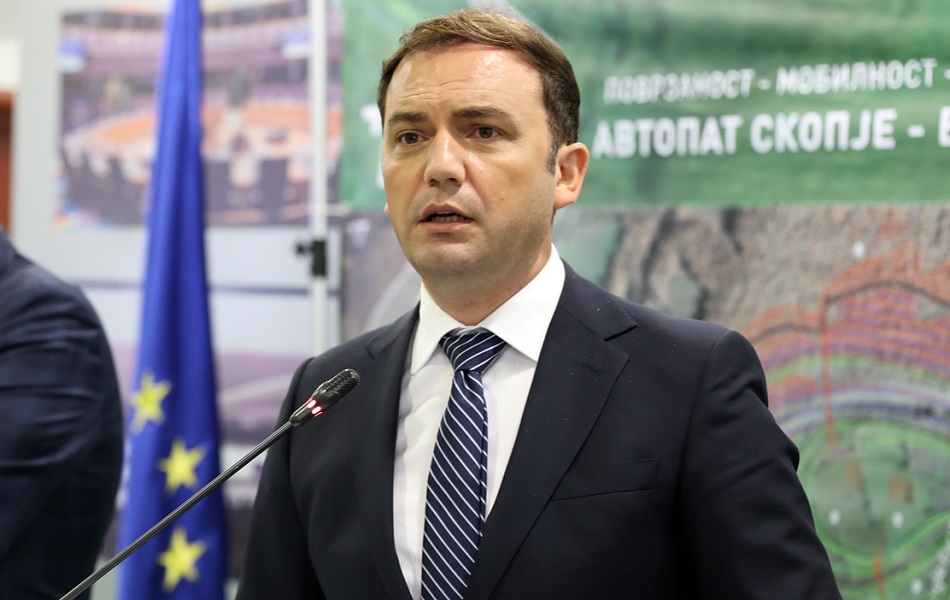 Minister of Foreign Affairs of North Macedonia Bujar Osmani stated today that there has been no interruption in the efforts to contact Bulgaria to reach an agreement on the EU negotiating framework for North Macedonia. He does not believe the solution to the dispute lies in the signing of a new agreement, but rather in the current Agreement around which trust should be restored, since the Bulgarian side feels it is not being fulfilled. He confirmed that proposals and ideas are being exchanged, sometimes orally, sometimes in writing, however the public will be be informed if they become the basis for reaching an agreement, and by now this is obviously not the case, as he refrained from announcing them.
"It is very important for us to organize an intergovernmental conference in December with the German Presidency, and that is why we are working with concrete proposals and ideas. As long as there are ideas and proposals for which there is no consent, they  remain nothing but ideas and we can not talk openly about them. We are focusing mainly on concerns regarding territorial claims, minorities, the work of the Historical Committee, economic relations, infrastructure relations and hate speech. I feel that the problem has its roots in the lack of trust between us and Bulgaria. Leaving politicians aside, distrust is growing among intellectuals, academics, historians and is transmitted to the public and constructs a historical context. I must admit that, for the last 70 years, no efforts have been made to overcome them, but things were instead shoved under rug. That is why I regard the agreement as the actual solution and an opportunity to restore confidence; it represents the platform and the form for overcoming any differences. We are seeing an opportunity and we are working in that direction", Osmani said.
As he stressed, Bulgaria has a clear position on identity issues, noting that the country is not questioning the identity and language of citizens in North Macedonia.
"Negotiations with the EU are difficult and complicated, full of obstacles along the way. We overcame such obstacles and one of them arose from France. If this issue is not resolved, it will bear devastating consequences for our relations and tarnish the possibility of a long-term solution. That is why we are working to restore confidence these days, to complete the process. It was the same with the French veto and things seemed doomy, but should we have given up back then? France did not have confidence in the enlargement process, but a strong methodology was found and things went well", Osmani said.
As for reports by the Bulgarian media and close officials that reaching a solution remains a long shot, Osmani said it is a fact that there are concrete steps, ideas and proposals being exchanged and that, considering the seriousness of the proposals, he stands by his optimism that there is a solid basis for mutual consensus.
As for whether there are attempts at mediation and behind-the-scenes activities, Osmani said friends are concerned about this development in relations with Bulgaria and that everyone is trying to help in their own way.
"Everyone is interested in this success. Of course, the German Presidency is doing it more actively, but there is no specific form of mediation because we are engaging in direct talks", Osmani said.
As for Belene, he replied that "our intention to diversify energy supply sources has been communicated to all partners and it is not surprising".
Regarding remarks on whether there is a difference in the interpretation of the Good Neighborliness Agreement with Bulgaria as a result of translation gaps, with certain parts of convergence and deviation in the two nations' history, the Minister said that, when translating documents, sometimes minor differences might occur, but there is no doubt that in the agreement the term refers to a common history, from which the state does not escape.
Regarding Sofia's comments that no intergovernmental conferences will be held, with one of them scheduled to take place in Skopje this year, Osmani said negotiations on the dispute should yield results and it should in fact take place, announcing nonetheless the readiness of North Macedonia for the next meeting in December. He recalled that his first visit abroad was to Sofia and that his first activity was the convening of the Historical Committee, so he sees no problem with communication.
Despite the many eyebrows raised, he sees no problem with identity issues, not even with the language with Bulgaria.
"The right to self-determination is also the right of citizens to say what language they speak. Bulgaria does not dispute this right. It should be welcomed that the country is not disputing identity issues", Osmani said, adding that the issue regarding Goce Delchev's identity is pending on committees and his feeling is that the differences are already waning.
Asked about the announcements regarding questions from DUI MPs about some ministers, Osmani was adamant that there are no differences in the DUI.
"There are always different views, lively debate, and that is the beauty of DUI, the internal debate. These discussions always end at the party level", Osmani said. /ibna