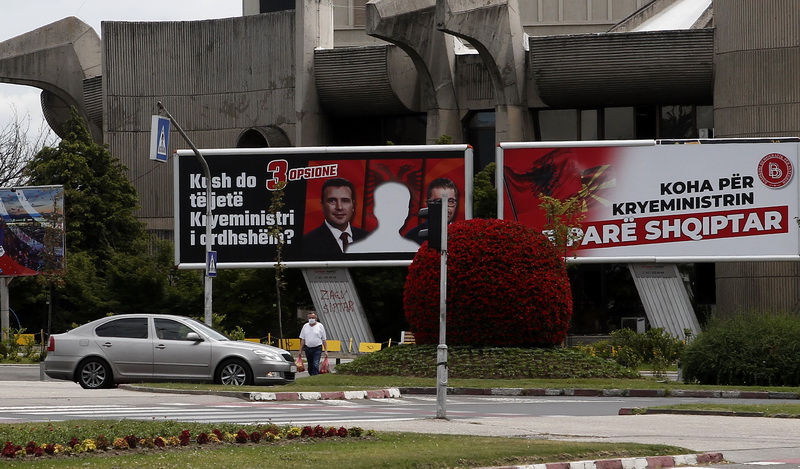 The 20-day pre-election campaign for the parliamentary elections in North Macedonia scheduled for July 15 begins today and will run until midnight on July 12, followed by a three-day pause from any pre-election activities. These are the «strangest» elections to be held in the country to date, given the situation with Covid-19 and the measures to be taken by participants, voters and the election administration to protect health.
All parties, without exception, have committed to fair, democratic and free elections in terms of protection measures.
Fifteen coalitions and political parties are running in the parliamentary elections, most of which have already begun their activities by promoting programs with on-site visits and meetings with citizens.
The election campaign will last until midnight on July 12, when all three days of campaigning will be suspended. On July 13, patients with covid-19, both quarantined and self-isolated, will vote, but only those who apply seven days in advance. All others who will be confirmed as positive by the day of the vote will be self-isolated and will not be able to vote on July 15. On July 14 will vote the sick and debilitated, as well as prisoners and detainees. Voting on July 15 starts at 07:00 (local time) and will be extended for an additional 2 hours until 21:00 (local time).
The parties announced that the election campaign will be conducted in accordance with the protection measures of Covid-19, without large or small gatherings and will focus on the electronic presentation of programs through electronic media as well. Meetings with citizens will take place in the open air with a maximum of 50 persons, and indoors with 30 persons and always by maintaining safe distancing.
Applicants may lodge an objection for non-compliance with the provisions of the election campaign, which the State Electoral Commission (SEC) must decide within 72 hours of filing the complaint. The applicant has the right to appeal to the Administrative Court against the decision of the SEC within 48 hours of receipt of the decision and in turn the Court has 72 hours upon receiving the appeal to make a ruling.
Participants in election campaigns cannot request paid political advertisements in the media that are not registered in the register of broadcasters, print media and online gates, while payment can only be made from the official campaign account of the election campaign.
The State Electoral Commission is expected to set up electoral councils on health tomorrow, July 13, for people with Covid-19, quarantine or self-isolation, and instructions must also be given according to the protocols of the Health Authority.
The State Electoral Commission will have to complete the voter list by July 4 at the latest, and political parties must submit their observations to the Commission. In these elections, the citizens of North Macedonia who live and work abroad will not vote, as the required number of registered voters has not been met by the day of the voting. However, those who turn 18 by election day will be included in the voter lists. Finally, only adults with valid personal documents will be able to vote in the elections./ibna