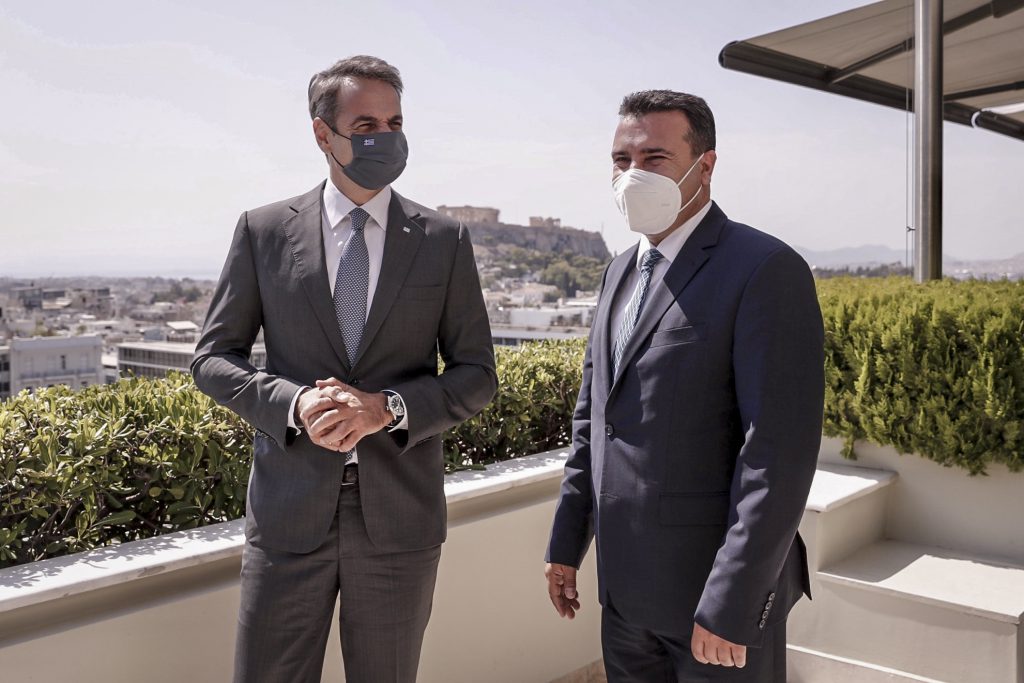 With the Prespa Agreement, the Republic of North Macedonia and Greece created a model of successful resolution of open issues between neighbours, while with the country's accession to NATO the partnership becomes an alliance and Greece remains a strong lobbyist and supporter of the country in the forthcoming negotiations process with the European Union. These are the messages from today's working meeting of Prime Minister Zoran Zaev with his Greek counterpart Kyriakos Mitsotakis.
The meeting, which was assessed by Zaev and Mitsotakis as an important and additional contribution to the improvement of relations between the two countries, was attended by the Deputy Prime Minister in charge of financial affairs, coordinator of economic departments and investments Fatmir Bytyqi, Deputy Prime Minister Nikola Dimitrov, and Foreign Minister Bujar Osmani.
Zaev, as reported by the government press service, stressed at the meeting that with the established partnership based on trust and friendship, the relations between the two countries turned into an alliance confirmed by the country's accession to NATO and that Greece remains a strong supporter of the country in the forthcoming negotiation process with the European Union, which will begin with the first intergovernmental conference, during the presidency of the Federal Republic of Germany, with the Council of the EU.
The meeting also discussed the future cooperation and implementation of the provisions of the Prespa Agreement action plan, among which the priority is the continuation of the work of the joint committees of experts on historical, educational and archaeological issues, as well as the work of the business dialogue committee for a solution on business brands and naming, in order to further encourage policies that facilitate business relations.
In this regard, according to the statement, the meeting focused on creating conditions for greater economic cooperation and intensifying the gas interconnection between the two countries, for which a final agreement will be signed soon.
Zaev and Mitsotakis also discussed tackling the Covid-19 pandemic and agreed that EU solidarity and co-operation with the Western Balkans in this area should be continued and upgraded to include the region in EU economic policies for the recovery of European countries.
According to Greek government sources, Prime Minister Kyriakos Mitsotakis hosted a dinner in honour of the Prime Minister of North Macedonia, Zoran Zaev, on the occasion of his arrival in Athens to attend the Economist conference. The main topic of the talks during the lunch was the course of bilateral relations and especially the development of economic cooperation between the two countries. The European perspective of the neighbouring country was also discussed. Zoran Zaev committed himself to the need for good implementation of the Prespa Agreement./ibna