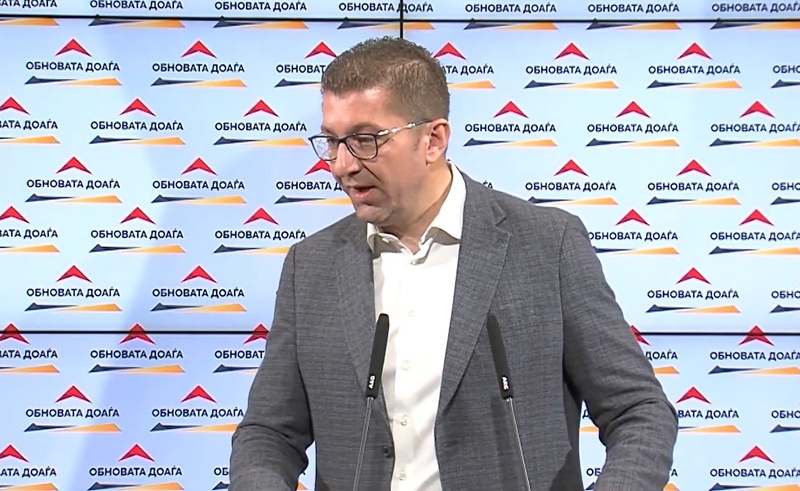 VMRO-DPMNE leader Hristijan Mikoski, during Monday's press conference urged the state to lend 1 billion euros to tackle the financial consequences of the pandemic. In addition to the existing debt that amounts to around 600 million euros and is provided for in the government's budget, he called for the excess liquidity of the banks, that is kept in the form of government bonds in the National Bank, to be made available. Mickoski proposed that these funds were redistributed to finance the economy through the issuance of government bonds by the Finance Ministry.
"In addition to the 600 million euros secured by a loan from the World Bank, the IMF and foreign banks, an additional 400m euros could be secured through government securities issued by the Treasury", said Mickoski.
He explained that banks keep about 25 billion dinars or about 420 million euros in government bonds in the National Bank of North Macedonia.
"These are short-term debt securities issued by the National Bank to withdraw liquidity from banks in conditions of excessive liquidity in the banking system, but also when there is excessive liquidity surplus in the economy, so as not to create inflationary pressures", Mickoski explained, adding that this was some kind of "frozen capital from the economy".
In addition, he proposed that those 420 million euros were allocated as a fund to support and develop the Support and Development Bank of North Macedonia to directly assist the private sector, in particular when it comes to addressing the insolvency of very small and medium-sized enterprises.
The National Bank declined to comment on the proposal by the VMRO-DPMNE main opposition party.
For her part, head of the National Bank Anita Angelovska-Bezhoska, while promoting the first package of measures for the economy, stressed that the National Bank would continue to preserve the stability of the dinar alongside low inflation. To support the economy, the National Bank has decided to lower its debt-to-interest rate to 1.75% by reaching an all-time low, while it also adopted other regulations that allow banks to defer claims on citizens and businesses for a specified period of time , but also to offer them more favorable interest rates and other terms to repay the loans and thus help overcome the financial impact of COVID-19.
Mickoski also urged SDSM President Zoran Zaev to step down immediately following his proposal to cut civil servants' salaries because, as he believed, the worse was yet to come. He described the measures adopted by SDSM as late and inadequate, adding that they are not what the economy is in need of. /ibna