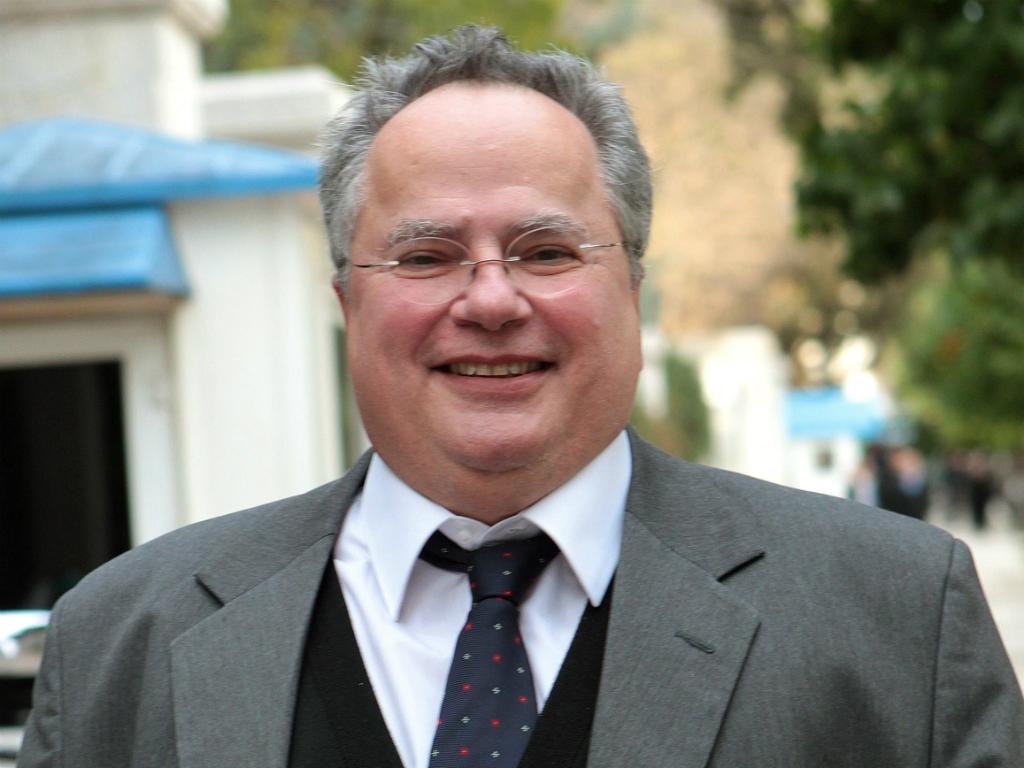 Former Minister of Foreign Affairs of the Hellenic Republic Nikos Kotzias is among the thirty personalities decided by the Ministry of Foreign Affairs of North Macedonia and Minister Bujar Osmani to honor, on the 30th anniversary of the declaration of independence of the country in 1991.
"This year, the Republic of North Macedonia celebrates the 30th anniversary of independence, declared in 1991. On that occasion, the Minister of Foreign Affairs, Bujar Osmani, decided to present awards to 30 foreign nationals, senior EU and NATO officials, statesmen, diplomats and experts on our country and the region. With this act, we give a symbolic recognition of the legacy of our independence, support, and assistance in completing the Euro-Atlantic perspective, as well as the strengthening of the multiethnic, multicultural and multi-confessional cohesion of our country and society" states the announcement of the Ministry of Foreign Affairs.
"Thirty years later, the Republic of North Macedonia has a predictable future, as a member of the key Western integration mechanisms, but also predictable political and economic stability. The greatest credit for those goes, of course, to our citizens, but the support of friends around the world is also of paramount importance in achieving these ambitions" the announcement continues.
Concluding, states, "appreciating their special contribution through the prism of many events and processes that represent important moments of our recent past, development and active involvement as a modern and prosperous member of the international community, as well as exceptional efforts to overcome obstacles to the goals of importance for our external politics, and thus the overall socio-economic development, we express our recognition for their contribution to the development of the country of the following persons":
Robert Badinter, Chairman of the Arbitration Committee of the Yugoslav Peace Conference
Lawrence Butler, Ambassador of the United States (2002-2005)
Erhard Busek, Special Coordinator of the Stability Pact for Southeast Europe (2002-2008)
Max van der Stoel, OSCE High Commissioner on National Minorities (1993-2001) – posthumously
Barney White-Spunner, British general and NATO commander in our country (2001) and member of the Ohrid Group
Zhelyu Zhelev, President of the Republic of Bulgaria (1990-1997) – posthumously
Klaus Kinkel, Minister for Foreign Affairs of the Federal Republic of Germany (1992-1998) – posthumously
Nikos Kotzias, Minister of Foreign Affairs of the Hellenic Republic (2015-2018)
Alain Le Roy, EU Special Representative (2001-2002) and member of the Ohrid Group
Stefan Lehne, Director of the Balkans, Eastern Europe, and Central Asia Directorate at the General Secretariat of the Council of the EU (2002-2008)
Anna Lindh, Swedish Foreign Minister and President of the EU Council (2001) – posthumously
Tadeuš Mazovjecki, Special Rapporteur of the UN Commission on Human Rights – posthumously
John McCain, U.S. Senator – posthumously
Matthew Nimetz, Personal Representative of the Secretary-General of the United Nations (1999-2019)
Lord Patten, European Commissioner for Foreign Affairs (1999-2004)
James Pardew, US Representative to our country (2001) – posthumously
Reinhard Priebe, Director for the Western Balkans at the EU Secretariat-General for Foreign Affairs (2001-2004) and Enlargement (2005-2006)
Romano Prodi, former Prime Minister of Italy, and President of the European Commission (1999-2004)
Condoleezza Rice, US Secretary of State (2005-2009)
Olli Rehn, European Commissioner for Enlargement (2004-2010)
George Robertson, Secretary General of NATO (1999-2004) and President of Ohrid
Daniel Serwer, University Professor
David Slin, former British diplomat
Francisco Javier Solana, EU High Representative for the Common Foreign and Security Policy (1999-2009) and member of the Ohrid Group
Jean Francois Terral, Ambassador of the French Republic (2000-2003)
Pieter Feith, Personal Representative of the Secretary-General of NATO (2001)
Ervan Fuere, EU Special Representative and Head of the European Commission Delegation (2005-2011)
Christopher Robert Hill, US Ambassador (1996-1999)
Richard Holbrooke, US Assistant Secretary of State for European and Canadian Affairs (1994-1996) – posthumously
Hikmet Çetin, Minister of Foreign Affairs of the Turkish Republic (1991-1994)
Hans-Lothar Steppan, historian, and ambassador of the Federal Republic of Germany (1993-1997) – posthumously. /ibna