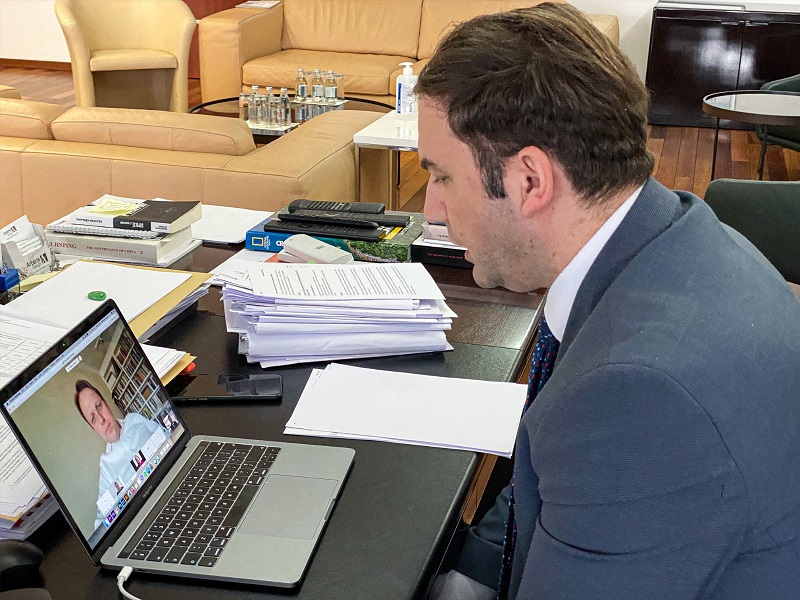 Bujar Osmani, Deputy Prime Minister of the Government of North Macedonia in charge of European Affairs, today held a teleconference with EU Neighborhood Policy and Enlargement Commissioner Oliver Varhelyi, with whom they discussed the actions taken by the Government and the Co-ordination Center to combat the COVID-19 pandemic, while also touching upon the opportunities for closer cooperation in this regard with the EU institutions.
According to the Ministry of European Affairs, the two men exchanged views on the emergency aid the EU will provide to North Macedonia through emergency aid and the reallocation of part of the IPA regional development program.
"The € 4 million emergency assistance and the release of over € 60 million of regional development funds to tackle socio-economic challenges have been a major contribution from the European Union, and it is particularly pleasing the fact that the country is integrating in the common European mechanism to contain COVID-19 through its participation in the European Union's joint supply of medical devices for this purpose", said Osmani.
Oliver Varchelyi noted that North Macedonia as a country negotiating with the EU has also gained access to the EU Solidarity Fund, where alongside EU member states the appropriate funds will be allocated to address the challenges posed by COVID-19.
Osmani also expressed his personal gratitude to Commissioner Varhelyi for his personal contribution to the decision on the commencement of the accession negotiations with the EU.
"I express my sincere gratitude on behalf of the entire government and the citizens of the Republic of North Macedonia for the historic success of the country in reaching a final decision on the opening of negotiations", Osmani stated during his conference call with the EU Commissioner for Neighborhood and Enlargement, Oliver Varhelyi. /ibna