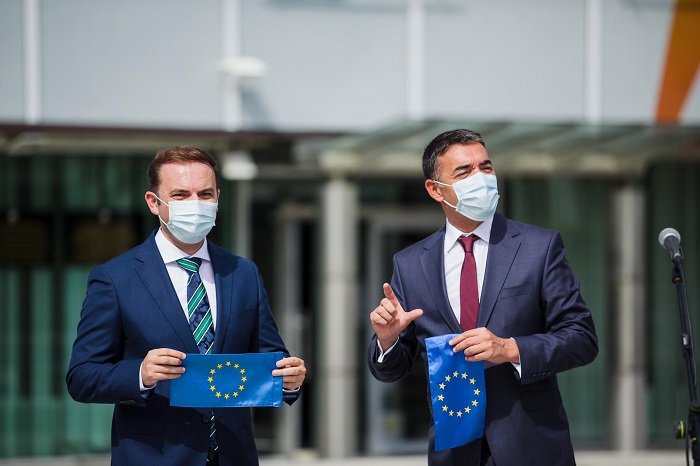 Former Foreign Minister of North Macedonia and current Deputy Prime Minister for European Affairs Nikola Dimitrov and his replacement at the Ministry of Foreign Affairs Bujar Osmani gave a joint interview yesterday.
In his statement, Nikola Dimitrov described the last three years he served as Foreign Minister as historic, mainly due to the country's accession to NATO, the resolution of the dispute with Greece and the beginning of the historic process with Bulgaria. In the next period in which he will lead the Secretariat for European Affairs (SEA), as he pointed out, the focus of his work will be the commencement of the EU accession process and the successful conduct of the negotiations for accession to the Union.
On March 26, 2020, the European Council decided to start negotiations with the country for EU membership. Dimitrov stressed that a joint success with Osmani signaled the green light for the start of the EU accession process starting this year's March.
"A process by which we must bring European standards in terms of democracy and justice, but also life and the economy at home, in our homeland. My focus on the SEA will be the beginning of the accession process and the use of momentum with the commitment of the German Presidency and Chancellor Merkel at the end of the year to finally start the accession negotiations and open the best tool for internal reform" , said Deputy Prime Minister Nikola Dimitrov.
He added that this would in a way mean that the SEA would be one of the main drivers of reforms. He announced that there is an analysis or renewal of the negotiating structure that has already been established given the new methodology of the groups, in which there are many chapters.
Dimitrov pointed out that "we have a lot of work ahead of us, but at the same time great challenges, great burden, but also a huge golden opportunity in the coming years to use them to penetrate deeply into the process of accession to the European Union".
Dimitrov also informed that, on September 8 in Brussels, the Member States will discuss a version of the draft negotiating framework, which will be presented by the German Presidency of the European Union.
"Berlin's plan, given the situation, is to complete this process in the last month of this year. The German presidency expects the first intergovernmental conference to take place in December this year", said the new deputy prime minister in charge of European affairs. /ibna