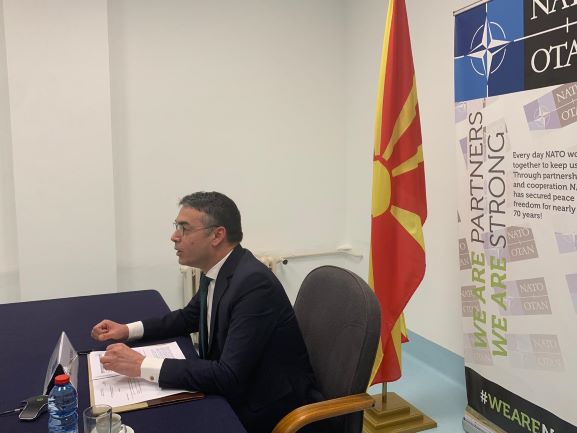 Foreign Minister Nikola Dimitrov represented North Macedonia for the first time as a full NATO member at a meeting of the North Atlantic Council of Foreign Ministers. The meeting, due to restrictions caused by the COVID-19 pandemic, was held via video conference.
Nikola Dimitrov expressed his gratitude to the Member States for finalizing the accession process, allowing North Macedonia to officially become the 30th member of the Alliance last week after two decades of preparation.
In addition, Dimitrov stressed the importance of North Macedonia's NATO accession as a common success in efforts for regional and European stability and the joint management of global challenges.
"This success belongs not only to us. This is a success of all our partners in the Euro-Atlantic community, who share the values of democracy, human rights and the rule of law through unity and solidarity. Expanding co-operation, assistance and information should be faster than the spread of the pandemic", Dimitrov said during the meeting.
Commenting on the main topic of the meeting, that is, the COVID-19 pandemic, Dimitrov underlined his government's measures to address this global challenge, stressing the need for the Alliance's assistance to this issue towards the affected Member States. Emphasizing the principle of solidarity upon which NATO is based, the joint statement of the Ministers underlines the need to take urgent and coordinated action to address the crisis and mitigate its consequences.
NATO Secretary-General Jens Stoltenberg stated at a press conference that the key issue at today's cabinet meeting revolved around avoiding a health crisis as a result of the coronavirus pandemic becoming a security issue.
Issues related to Afghanistan, the wider Middle East and North African region, as well as the situation in Syria were also discussed during the meeting. Nikola Dimitrov also reaffirmed the readiness of North Macedonia to further contribute to NATO's actions and priorities. /ibna