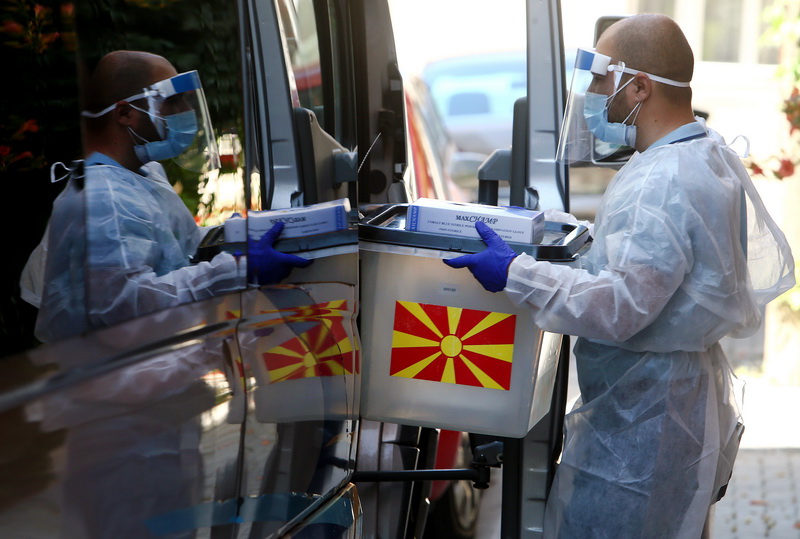 A total of 723 people exercised their right to vote, as people infected with COVID-19 and in self-isolation cast their vote today, as announced by the State Election Commission.
Commission President Oliver Derkovski clarified that 759 people had registered to vote and the difference in the numbers announced earlier was due to the fact that citizens' complaints were sustained.
"Thanks to the media and the real message that was conveyed to the citizens that the Electoral Commission and the state are securing a completely safe voting process to all our citizens who fell under this category of voters, I am able to say that the SEC has completed its task. For the remaining two days of the elections, I call on all our citizens to come out and vote and not to worry about their health, because it will be as safe as possible in the polling stations", Derkovski said.
He expressed his gratitude to all those who cast their vote on the first day of voting in the 2020 early parliamentary elections, because they took place under extremely difficult conditions in terms of the organization and implementation of the voting process itself.
The Electoral Commission will only be publishing the turnout rates and not the results from today's and tomorrow's voting.
The most "bizarre" elections yet in the history North Macedonia kicked off on July 13, as people tested positive to COVID-19 or in self-isolation voted today for the July 15 elections. The elections will be stretched over three days of voting, due to coronavirus-related restrictions.
A total of 15 parties and party coalitions are running in the elections to clinch a spot in the new 120-member National Assembly. The total number of registered voters amounts to 1.8 million.
Tomorrow, on July 14, patients with chronic diseases, people serving prison sentences, and people living in nursing homes will have the opportunity to vote. On election day, July 15, the remaining voters will head to the polls. Voting will kick off at 07:00 (local time), with polls to remain open until 21:00 (local time) due to the protocols set by the Infectious Diseases Committee for the protection of citizens at polling stations./ibna