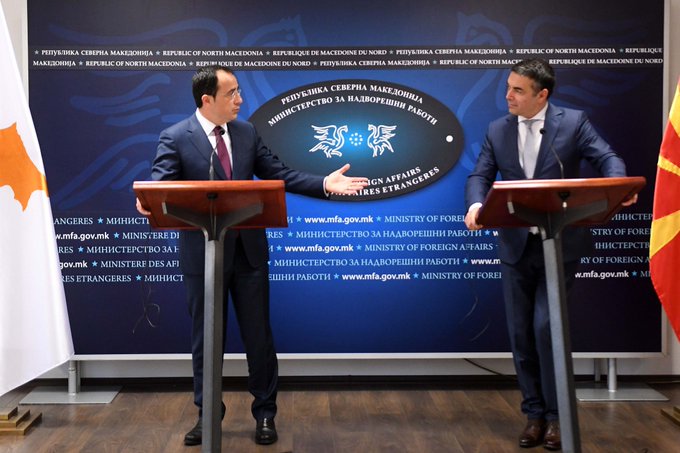 Foreign Minister of North Macedonia Nikola Dimitrov met today with the Minister of Foreign Affairs of the Republic of Cyprus Nikos Christodoulidis, who is in Skopje as part of his first official bilateral visit to the Republic of North Macedonia.
During the meeting, the two counterparts exchanged views and suggestions on enhancing bilateral co-operation, as well as on the current regional developments.
Nikola Dimitrov said in his remarks that "after the establishment of diplomatic relations between our two friendly countries last year, we have started a new chapter which I believe will be written in the coming period with rich and of-quality cooperation for the benefit of our citizens. We are also grateful that the first official bilateral visit of the Cypriot Foreign Minister takes place on the eve of the forthcoming EU Council, and we appreciate Cyprus' support for the long-awaited and precious green light".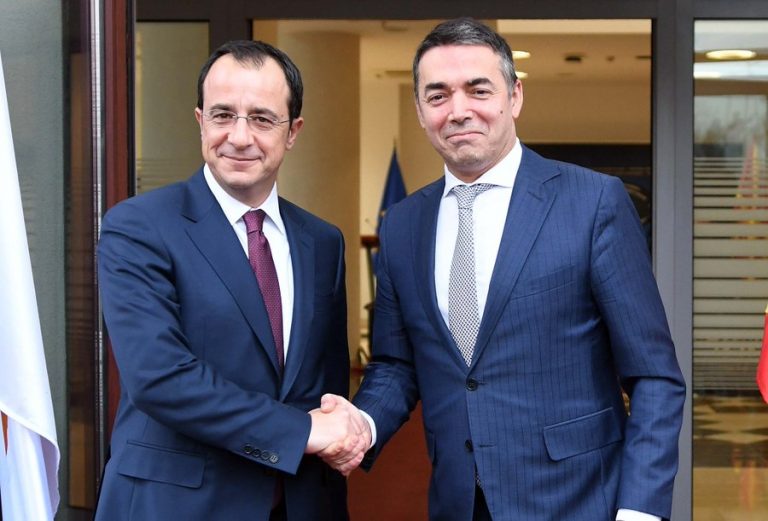 The Cypriot side reaffirmed its full support for its own European ambitions, in order to receive the recommendation for the start of the accession negotiations.
During their talks, the Ministers expressed mutual interest in enriching the bilateral contractual framework and concluding specific bilateral agreements in the near future, such as an agreement to avoid double taxation, while they also agreed on the importance of the idea to organize a Business Forum in the future.
Nikos Christodoulides was also welcomed by the President of North Macedonia Stevo Pendarovski, with whom he exchanged views on the possibilities of co-operation between the two countries in all areas of mutual interest, including economic cooperation in trade and investment. The President also expressed the expectation for the diplomatic representation between the countries at ambassadorial level in the near future.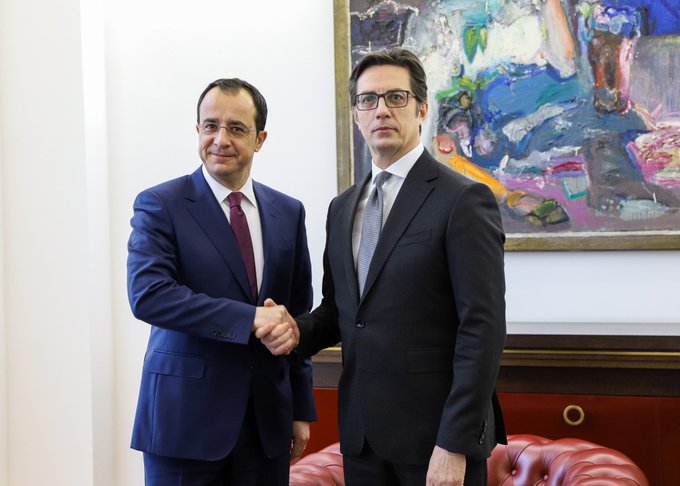 As for the expectations of the European Union in North Macedonia, President Pendarovski reiterated the expectation that a new methodology for conducting accession negotiations would be adopted soon, while a date would also be set for the kick-off of the accession negotiations with the EU. According to President Pendarovski, such a decision would add significantly in enhancing the stability and prosperity of the region, as well as of the European Union itself.
President Pendarovski said at the meeting that the country continued to work towards achieving its strategic goals, as well as towards implementing the internal reform agenda. Opinions and information were exchanged on the current situation in the region, including the threat of illegal immigration. /ibna