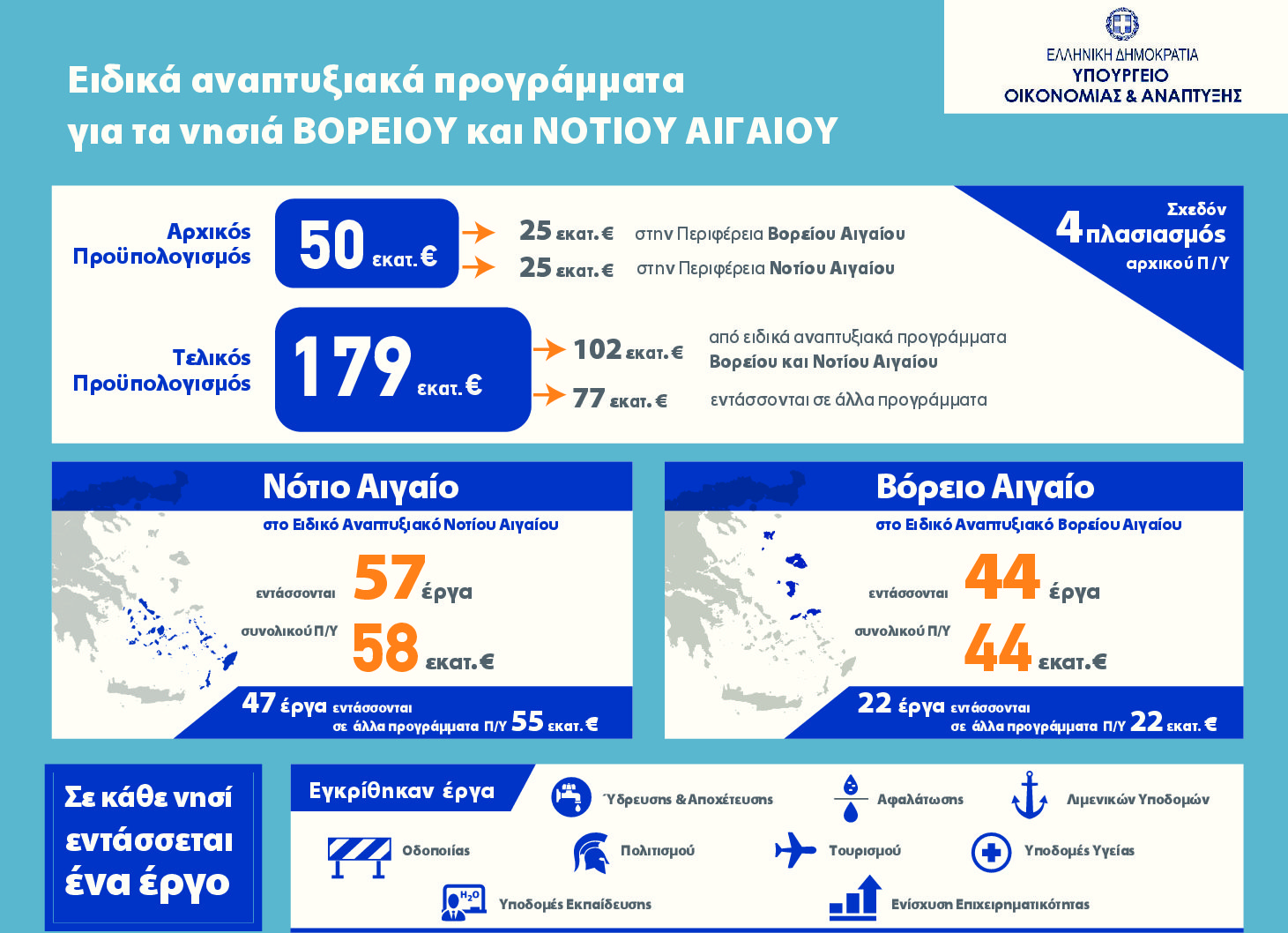 The main objective of the government is to strengthen the Aegean islands due to the special circumstances that arise, something that is expected to be reflected during the North Aegean regional development conference, about to take place on Wednesday and Thursday in Lesbos. The Greek Prime Minister Alexis Tsipras will attend on Thursday. More than 100 projects are being implemented in the North and South Aegean through the special development programmes worth € 102 million, while another 69 projects of a total budget of € 77 million are funded by other programmes of the Finance Ministry.
In the North Aegean, 44 projects of a total budget of € 44 million are financed by national resources (Special Development Programme), while 22 projects totaling € 22 million are part of other programmes.
Upgrading schools in Mytilene
For instance, it is considered important to upgrade the school complex of the Academy of Mytilene, Municipality of Lesvos, with a budget of € 2,259 million. It is an upgrade of the buildings of the school complex of the former Academy of Education of Mytilene, which consists of two buildings, one of which functions as the 5th High school of Mytilene and the other as the 3rd Elementary School, Kindergarten and Special School.
The project concerns the replacement of frames, roof insulation, painting, painting, marble maintenance, floor replacement, external thermal insulation, heating, water – drainage, electromechanical installations etc.
Coastal front on Ai Stratis 
The works of the North Aegean include green interventions for the operational upgrading of the coastal front of Agios Efstratios (Ai Stratis), amounting to € 350,000 thousand. The project includes the following interventions on the coastal front of the settlement:
a. Layouts and coatings, ensuring accessibility for people with disabilities.
b. Restoration of recreation and sports facilities (playground, open-air basketball court, beach volleyball).
c. Creating green spaces.
d. Lighting and equipment for fire extinguishing, waste collection and catering for visitors' health needs.
Port infrastructure in Ikaria
Also important are the additional projects for the improvement of the Port infrastructure of Agios Kirikos in Ikaria, amounting to € 1.68 million. This is the execution of additional works at the port of Agios Kirikos, complementary to those already built in previous years. They consist of four sub-projects:
1. Construction of a passenger building, Port Authority and Port Fund, 400 sq. M. (800,000 euros).
2. Restoration of damage to platforms, buffers, boarding asphalt, fencing. (230,000 euros).
3. Drainage dike for diameter 300 m and depth 2 m (300.000 euro).
4. Mole support (concrete in the created cavities and installation of artificial boulders) (350.000 euros)…. / IBNA