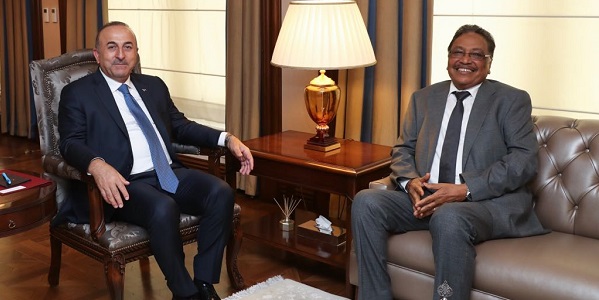 The Turkish Foreign Minister, Mevlüt Çavuşoğlu is in the Sudanese capital Khartoum from where, on December 26 he dismissed claims there were signed co-operation deals between Ankara, Tehran and Doha.
Turkey's FM is paying a visit to Sudan ahead of Turkish President Recep Tayyip Erdoğan's one to the region.
He spoke of the existing ties between the three states during a Khartoum presser together with his Sudanese counterpart, Ibrahim Ghandour. The Turkish politician told reporters of the general stance of Turkey's Middle East policy, noting that as a country, Turkey does not choose certain Muslim countries to "play with" while excluding other from the game.
More specifically, he said "There is no Turkey-Iran-Qatar axis. Now we have very warm ties with Sudan. Does that mean there is a Turkey-Sudan 'axis?', adding that Ankara is interested in the promotion of unity "across the Islamic world, 'not to sow sedition between Muslim countries as others have done'", Anadolu reports.
Sudan's FM, Ghandour, highlighted the importance of security in the Red Sea and spoke of his country's stressing "readiness to cooperate with different states of the region in this regard."
More Turkish soldiers sent to Qatar
During Çavuşoğlu's visit to Sudan, Qatar's Defence Ministry was announcing that a new group of Turkish soldiers was sent on December 26 to a military base in the country's capital Doha.
As the official statement read, the troops reached the Al Udeid Air Base in southern Doha and are expected to join more colleagues of theirs who are already in Qatar, at the moment stationed at the Tariq bin Ziyad military base.
The two states first agreed on a defence co-operation in 2014. Part of that pact was the establishment of a Turkish base in Qatar. In 2016, the deal was concluded and Ankara was then free to begin deploying troops to its Gulf country base. Anadolu reads that the first batch of soldiers arrived in June 2017 and conducted their first drill at Tariq bin Ziyad.
From now on and thanks to the second group that reached Doha, military drills among Qatar and Turkey are said to intensify and will, as a result, strengthen both sides' defence potential…/IBNA
Photo (Library): FM Çavuşoğlu received Ambassador Osman Eldirdieri Elmubarak Ali of Sudan, on 26 July 2017, on the occasion of the end of his tenure in Turkey/mfa.gov.tr