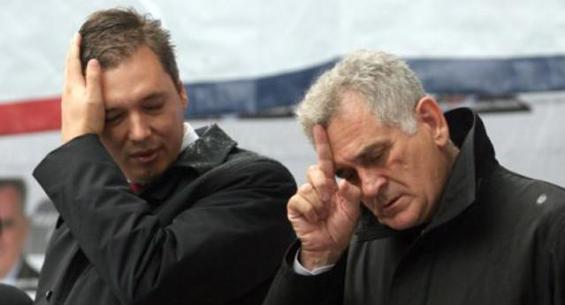 The central committee of the Serbian Progressive Party (SNS) has anonymously supported its leader – and current prime minister – Aleksandar Vucic to run for president in the upcoming elections, after shock that created SNS founder and incumbent president Tomislav Nikolic's decision to rerun on his own.
At the SNS central committee session Vucic said that he would "never" say anything bad about Nikolic; however, his party associates and coalition partners have sharply criticized president blaming him for "treason", cooperation with the West or tycoons or both, and helping opposition.
"I am always ready to work together with him (Nikolic) as I am ready to work with each of you. And that willingness will never disappear", Vucic said.
The most of Serbian media sided with Vucic; one tabloid published headline claiming that Russian Federation paid Nikolic 20 million euros.
Earlier this week Russia's Sputnik has first reported on Nikolic decision. And today, Nikolic gave an interview to Sputnik. On direct question whether he would rerun, Nikolic answered: "It is true that there is a possibility and all depends on my relations with Aleksandar Vucic. We had different sorts of deals… I was convinced that, considering presidential elections, we have been conducting the same plan".
And the plan, according to Nikolic, was his nomination for another term with the support of Vucic and SNS; in case that Vucic wants to run for president, Nikolic should, in his own words, take the leadership over SNS and become new premier. Apparently, this was not acceptable for Vucic who was, during 2016, decisively rebuffing his own possible nomination, unlike Nikolic who was clear in his intention to rerun.
These solutions were discussed by Vucic and Nikolic in previous days, the president said.
"But I did not get the concrete answer from Aleksandar yet", Nikolic told Sputnik today.
Day earlier, Vucic acknowledged that he was "not interested".
According to analysts, Serbia heads to harsh presidential campaign. Additionally, it is not clear whether early general elections, only a year after SNS's convincing victory, would be simultaneously called. Vucic did not exclude such a possibility in several statements.
SNS coalition partners clearly supported Vucic's nomination for president with some of them stressing his pro-European orientation in contrast with Nikolic's more pro-Russian inclination.
"I think that … citizens of Serbia know me very well, they know that I don't like when somebody wants to humiliate me, to trample on me, to destroy my dignity", Nikolic told Sputnik./ΙΒΝΑ