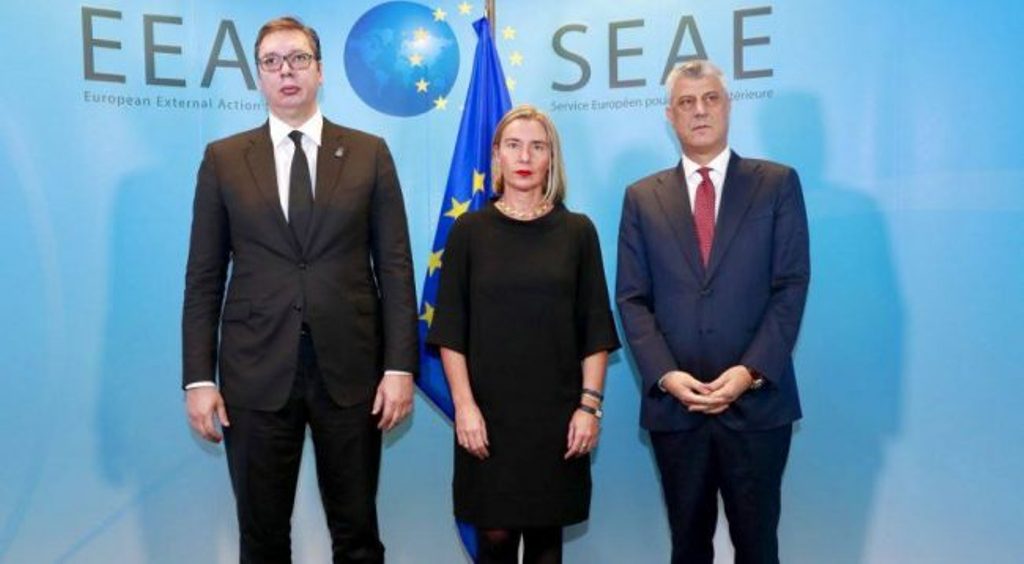 The meeting between presidents of Kosovo and Serbia, Hashim Thaci and Aleksandar Vucic, has once again ended without a deal. The meeting, which was brokered by the High Representative of the European Union, Federica Mogherini, has ended without an agreement being reached due to the 10% tariff that Kosovo has introduced on goods imported from Serbia and Bosnia and Herzegovina.
The first one to comment after the meeting was the president of Serbia, Aleksandar Vucic, who declared that there will be no dialogue with Kosovo until the 10% tariff is lifted.
"Serbia is ready for dialogue, but before that, someone must act responsibly. Someone must meet his side of the bargain and not threaten Serbs that they will send the army there. If they are unable to respect an agreement, how could they ever respect other agreements", Vucic said.
Vucic said that territorial swaps have not been discussed in this meeting, but that dialogue will continue to see what Serbia has to gain from this process.
Meanwhile, president of Kosovo, Hashim Thaci said after the meeting that Serbia has used an aggressive discourse against Kosovo during these talks.
"Serbia's discourse was aggressive and arrogant, while our discourse was sustained by arguments. We're in favour of reaching a balanced deal which would imply a mutual recognition, UN accession and the replacement of resolution 1244", Thaci declared among others.
Meanwhile, the office of the head of the EU diplomacy, Federica Mogherini issued a press release stating that:
"The European Union expects Serbia and Kosovo to swiftly deliver on their commitment to the Dialogue given the direct link between comprehensive normalisation of relations between them and the concrete prospects for their EU aspirations.
In her discussions with the two Presidents, Federica Mogherini emphasized the need for Kosovo and Serbia to ensure an environment conducive for the Dialogue and to refrain from words, actions and measures that are contrary to the spirit of normalisation.
They discussed the necessary steps for the way forward and decided to remain in constant contact in the coming days to assess the follow up of today's meeting"./ibna/