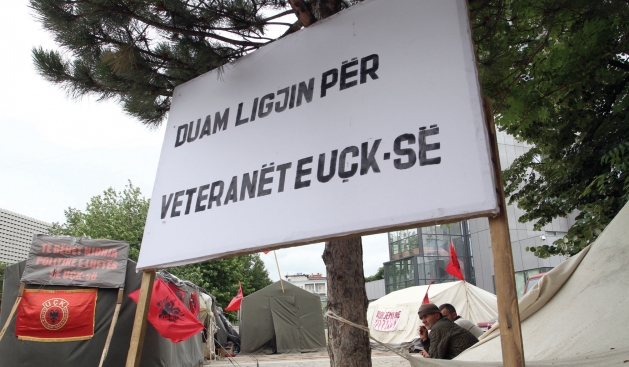 IBNA Special Report
Skopje, August 15, 2014/Independent Balkan News Agency
By Naser Pajaziti
Veterans of the former National Liberation Army (NLA), a guerrilla military organization that fought in 2001 against Macedonian security forces, is seeking its status today 13 years after the end of the conflict.
There are thousands of members, but also disabled people and families who don't have their relatives, as they fell in the war. For 13 years in a row, the solution of their status was the main request of the Albanian political parties, but an institutional solution was never achieved. This was prevented by Macedonian parties in power.
In 2006, parties were very close to solving the status, but at that time, the process was suspended and with the arrival of VMRO-DPMNE of current prime minister Nikola Gruevski in power, this issue continues to remain unresolved.
Meanwhile, there exists a law of 2002 which regulated the status of the former Macedonian members of police formations and government military formations.
This law offers social assistance, accommodation and free education, health services and other services for disabled people, veterans and families of the fallen ones.
General Secretary of the Democratic Union for Integration (BDI), Abdilaqim Ademi, who is part of the government and current minister of Education, says that their status will not be resolved through a special law, but the benefits for this category will stem from the laws in power.
"We have often discussed this issue and we have agreed to resolve this issue in the framework of the current system, in the framework of the current laws, which means that this category may have a priority in employment, education, accommodation, health services and so on", said Abdilaqim Ademi.
Families of martyrs and organizations of Albanian veterans has been constantly demanding their status to be resolved in an institutional way, the same as the status of Macedonian fighters.
Association of the War Veterans doesn't accept a partial solution for the former members of NLA and the families of the fallen ones.
Its chairman, Fazli Veliu says that he will insist in order for martyrs' families, war invalids and former soldiers of NLA not to live on handouts and voluntary funds, but for their status to be regulated.
"We have facts to insist for this issue to be solved for the other side too, in order to have a harmonious cohabitation and not to be discriminated in comparison to the others", said Fazli Veliu for IBNA.
This issue continues to be a topic of debate  among political parties, who offer a solution before the elections and then evade their responsibility after the elections.
Selver Salimi, a veteran of NLA says that it's been 13 years that he's been living in misery, while other fellow fighters have managed to benefit great benefits through the war and politics.
"There's no justice and the majority of the former members have remained on the streets. They can barely survive and nobody feels sorry for them", says Selver Salimi, hoping there will be a solution one day. /ibna/