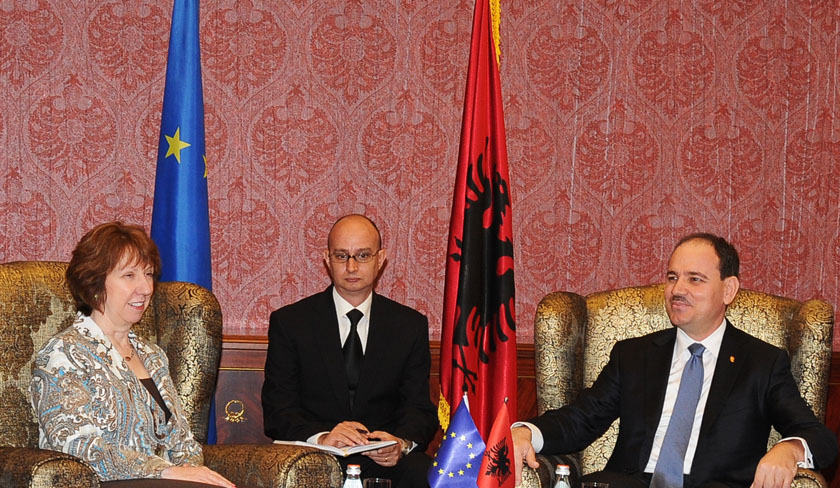 Tirana, 16 April, 2013
The President of the Republic of Albania, Bujar Nishani, received and held a meeting with the High Representative of the European Union for Foreign Affairs and Security Policy and Vice- President of the European Commission, Baroness Catherine Ashton, who is visiting Albania for the very time in the framework of a tour in the Western Balkans countries.
After expressing the engagement of Albania to fulfill and meet the integration standards and responsibility to be a worthy member of the European Union, President Nishani thanked the European Union and Baroness Ashton personally for supporting and encouraging the regional countries and especially Albania during the democratic and integration processes.
Then the Head of State guaranteed that Albania possesses the institutional capabilities and necessary infrastructure to hold free and fair elections in compliance to the European standards. The only remaining challenge is the behavior of the political parties during the electoral process and after the elections.
During the conversation a particular attention was paid to the situation in the region with the interlocutors pointing out that the cooperation and European future are the sole alternative for the Western Balkans countries.
In this framework, President Nishani praised the contribution provided by Baroness Ashton to peace and stability in the region, especially through the facilitation of Kosova-Serbia talks and assured that the policy of Albania supporting peace and security in the region remains unchangeable.
The Vice President of the European Commission, Catherine Ashton stressed that she feels encouraged by Albania's determination in accomplishing the reforms and emphasized that although the European journey is difficult, the experience of the preceding member countries have demonstrated that it is worthy.
Baroness Ashton expressed her interest about the electoral process in Albania by asking to hold a credible electoral process, especially for the voters.
The chief diplomat of the European Union stated that she expects form the Albanian politicians to behave responsibly in order to present electoral alternatives and priorities and to respect the ethics while avoiding harsh rhetoric.
The two interlocutors agreed that the President of the Republic can play a moderating role and convey the necessary messages during and after the electoral process in compliance to his institutional status.