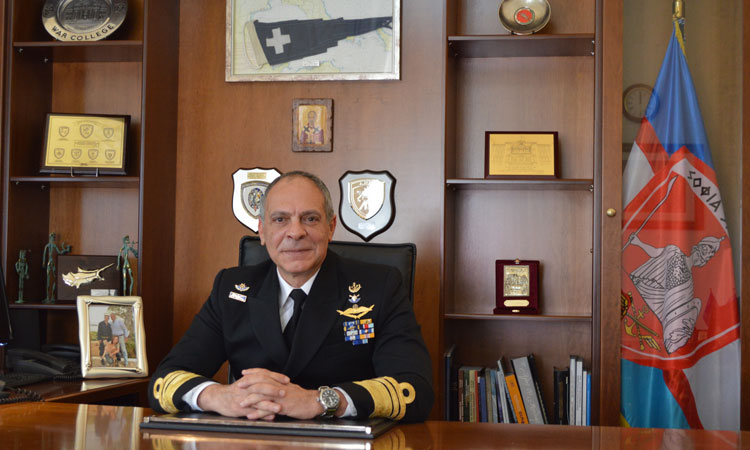 The Greek Prime Minister Kyriakos Mitsotakis met with Yiannis Roubatis on Thursday, August 1, at Maximos Mansion after his term's expiration as National Intelligence Service (NIS) Director. The Prime Minister thanked the outgoing commander for his services and for the official briefing he had as the opposition leader.
The Prime Minister's decision also includes the appointment of a National Security Adviser to the Office of the Prime Minister, as part of a complete overhaul of the Hellenic Republic's National Security structure, in order to meet the contemporary challenges that Greece has to face. Vice Admiral Alexandros Diakopoulos (photo) has been appointed as National Security Adviser.
The government, considering its top priority to be the modernization of the country's security policy, regarded the establishment of the National Security Advisor (NSA) post as an urgent issue. The Adviser will support the Prime Minister and recommend his association with the Ministry of Defense. This is why an executive with great experience and unquestionable abilities, such as Vice Admiral Alexandros Diakopoulos, was chosen for this critical position.
Alexandros Diakopoulos has served in the Armed Forces from many different positions. Inter alia, he served as the Director of the Directorate-General for Civil Defense and International Relations of the Ministry of Foreign Affairs, Commander of Naval Education and Commander of the School of Naval Tests. He has also served as a Navy Seal in Ankara, and was Commander of the National Defense School in the last two years before his expedition last January. He has been trained in Greece and France and holds a Master's degree in public administration from Harvard University.
Following the same rationale, the government is moving towards modernizing NIS, in order to tackle usual threats, but also new dangers, such as cyber warfare or the global level terrorist and criminal activity's linking to geopolitical implications. Mr. Panagiotis Kontoleon is appointed as the new Head of NIS, while this service is being restructured and expanded with an enlarged scheme of three Vice-Commanders, consisting of Vassilios Grizzis, Dionyssos Melitsiotis and Anastasio Mitsialis.
In this regard, the same model was adopted for the structure of the NIS leadership as for the government's composition. Simply put, the service is reinforced by individuals with technocratic competence who have proven their worth in the professional arena, and thus can be judged in terms of efficiency, free from bureaucratic anchors that were well-known in the previous years.
This prototype serves as the decision for Panagiotis Kontollon to be placed in charge of NIS, an option that attempts a break in the service's history, with a view to reforming it. He is a highly respected executive with an important career in the security field, who is also valued abroad, in countries with which Greece has traditionally cooperated. This option follows the successful example of other countries' intelligence services which were headed by individuals who did not create a career within those services.
NIS' three Vice-Governors strengthen and broaden its organizational and operational horizons. More specifically, Ambassador Anastasios Mitsialis, who represented New Democracy in 2016 at the National Foreign Policy Council (NFPC), will be responsible for the Agency's international relations. Vassilios Grizzis, who served as Director of the Center for Security Studies (CSS) for 7 years, will have operational responsibilities. Dionysios Melitsiotis, a lecturer at the University of Western Attica, will be responsible for organizational affairs./ibna