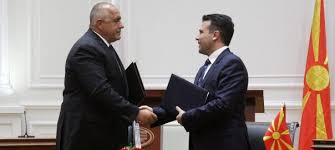 Nine agreements are expected to be signed on November 23 in Strumica at the first joint meeting of the governments of Bulgaria and fYROMacedonia.
The meeting will start with four-way talks between Prime Ministers Boiko Borissov and Zoran Zaev, followed by a plenary session.
Nine documents on bilateral cooperation in the fields of foreign policy, investment, energy, defence, tourism, telecommunications, infrastructure and disaster response are expected to be signed. The agreements are part of the Treaty of Friendship, Cooperation and Neighborhood, signed on August 1, this year.
Bulgarian Deputy Prime Ministers Tomislav Donchev, Krassimir Karakachanov and Ekaterina Zaharieva, Ministers Valentin Radev, Nikolay Nankov, Neno Dimov, Roumen Porozhanov, Ivailo Moskovski, Emil Karanikolov, Temenu\gka Petkova and Nikolina Angelkova will participate in the meeting.
Before the beginning of the plenary session, Prime Ministers Borisov and Zaev will lay wreaths at the monument to the President of fYROMacedonia in the period 1999-2004, Boris Trajkovski.
There will also be a ceremony for the delivery of a special vehicle for people with disabilities, which is a donation from Bulgaria to Strumica.
At the beginning of November, Bulgaria's Cabinet approved the allocation of 70,000 leva to buy the vehicle. The donation is in support a project for the social inclusion of vulnerable groups in the municipality of Strumica and the creation of conditions for the full participation of people with disabilities in the economic, social and cultural life of the city, a Bulgarian government statement said…/IBNA