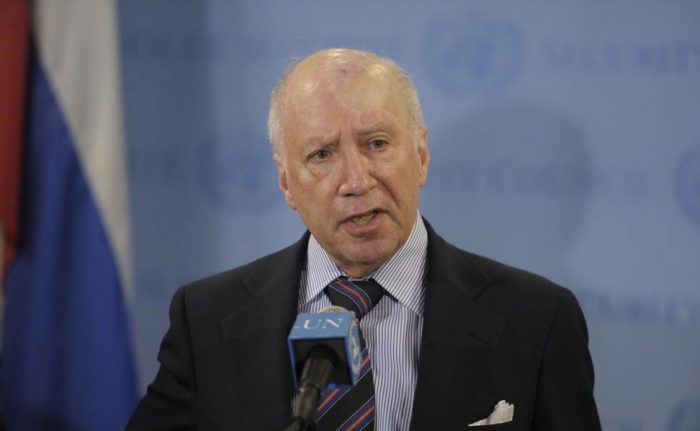 By Nikos Fragopoulos of the daily Skopje News
United Nations mediator Matthew Nimetz will meet with the negotiators of Greece and fYROMacedonia, Adamantios Vassilakis and Vasko Naumovski on December 11 and 12 in Brussels, is mentioned in a statement of his spokesman.
The meeting, as mentioned in the communication, is part of the United Nations' efforts to help the two sides find a mutually acceptable solution to the name issue.
Intensification of contacts for the nomenclature
This meeting of the United Nations Special Mediator for the name issue with the two negotiators of Greece and fYROMacedonia suggests the extremely rapid development of contacts between Athens and Skopje.
Matthew Nimetz will meet with the staffs of Adamantios Vassilakis and Vasko Naumovski, who – in fact – when the talks are intensified, will take the biggest weight of the negotiations. Greek Foreign Minister Nikos Kotzias traveled three days ago to Brussels for the works of the Foreign Affairs Council, where he met with his Macedonian counterpart, Nikola Dimitrov, who also had other contacts there.
As revealed by a photo portrayed on Twitter by Deputy Prime Minister of fYROMacedonia for European Affairs Bujar Osmani (with him holding a notebook and Kotzias his phone), the next meeting between the two sides was also agreed. Most likely, Osmani will visit Athens next week in order to hold talks in the Greek Foreign Ministry.
In general, contacts between the two sides are expected to deepen and intensify, particularly in the early months of 2018. As Kotzias has already pointed out at the last press conference, which he gave a few days ago, the first half of next year is an ideal time point for the rapid development of the negotiations on the nomenclature and even the possible agreement between Skopje and Athens.
From the point of view of fYROMacedonia, Socialist Prime Minister Zoran Zayev appears to be a very strong supporter of a fast negotiating process, while after the turn of the new government of Zoran Zayev from Nicholas Gruevski's past policy of irredentism, expectations have grown that the year-old dispute of the two countries on the name issue is entering a settlement path.
However, despite the fact that inside fYROMacedonia the necessity of the prospect of the country's entry into NATO and the EU has grown, difficulties still exist. Although the statements of the new Prime Minister Zoran Zayev and Foreign Minister Nikola Dimitrov indicate that they will not invest in the politics of irredentism of the past, this change of viewpoint must be adopted by the public opinion, which for many years he has learned to live with it.
On the Greek part, the recent visit of Prime Minister Alexis Tsipras to the US capital and the two-hour meeting at the White House of Greek Foreign Minister Nikos Kotzias with National Security Advisor of President Trump, General HR McMaster, has triggered an intense mobility on the front of national issues.
At the same time, the US President's National Security Team appears to be strongly active in the Balkan region, based on a specific plan, which prepares for important developments. It is well-known and clear that Washington would like to see the accession of fYROMacedonia to the North Atlantic Alliance at the next NATO summit on 11-12 July 2018 in Brussels. The main obstacle to this is resolving the dispute with Greece about the country's name. This is a matter that has been dragged through the process of Matthew Nimetz for over twenty years. President Trump's national security team has given new impetus to efforts to close open issues in the Balkan region, a region for which he has strategic plans in the context of South East and Middle East planning. fYROMacedonia is an important part of this puzzle, so membership in NATO is critical to Washington./IBNA