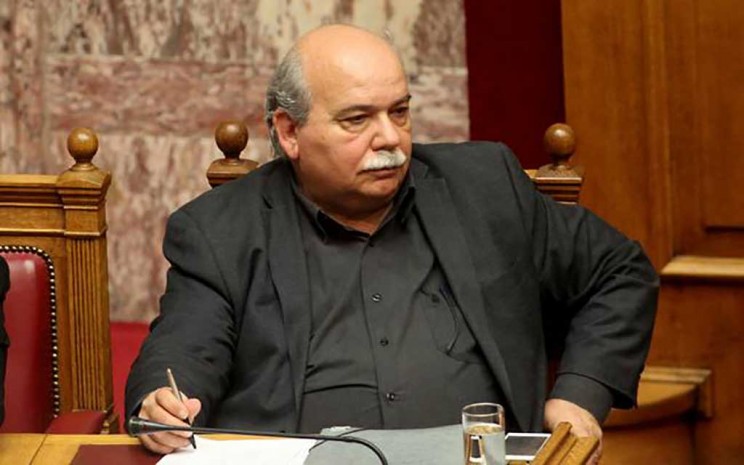 Athens, October 5, 2015/Independent Balkan News Agency
By Zacharias Petrou
Former Interior Minister Nikos Voutsis, a Syriza MP, was voted president of the Hellenic Parliament on Sunday with 181 votes from a total 297 deputies present.
Voutsis succeeds Zoe Constantopoulou as parliament speaker, one of the left-wing rebels that broke away from Syriza to form the Popular Unity (LAE party) when Prime Minister Alexis Tsipras announced a pro-bailout U-turn last July.
The new parliament speaker was born in 1951. He holds a degree in Civil Engineering from the Technical University of Athens and speaks fluent German.
Until 1986 he was member of the Internal Greek Communist Party ("KKE Esoterikou") and sat on the political secretariat. In 1993 he joined a new party, the Coalition of the Left and Progress (Synaspismos). From 1993 to 2013 he was member of the political secretariat of Synaspismos which later merged with other leftist groups to form Syriza (the Coalition of the Radical Left).
Nikos Voutsis was elected member of the Hellenic Parliament in 2012 in Athens with Syriza and was secretary of Syriza's parliamentary group in the previous House.
The new parliament is expected to push through a series of prior actions agreed in the country's bailout agreement, including many austerity measures. Troika inspectors are due to arrive in mid-October, with an intention to have the programme review completed by early November, at the latest. Succesful adoption of prior actions will allow Greece to receive an outstanding €3bn sub-tranche of the first bailout loan disbursement that will be released in two installments.
The second installment amounting to €1bn will be released by early November, subject to completion of some additional prior actions outlined in the MoU, including, inter alia, certain fiscal policy measures, pension reform and measures for addressing domestic banks' non-performing loans (NPLs).
Approximately 75 measures outlined in Greece's Memorandum of Understanding with its creditors need to be delivered by November 2015.
On Monday, Alexis Tsipras will introduce his new government and its program and a motion of confidence will be voted on most likely Wednesday, after a 3-day debate. The new government will also table the draft 2016 budget Monday.